Advertise on SecurityXploded
Do you want to showcase your products or services to our users?
Then here is great opportunity for you to seek greater ROI at the Best Price !!!
SecurityXploded is one of the fastest growing Infosec organization offering over 200+ free softwares in computer security, password recovery, anti-spyware, forensics, network, system security & many more. Over the last 10+ years it has become No.1 website offering Free Security Softwares worlwide.

Here are some of the suitable keywords/categories for which you can expect greater ROI from our website,
Computer Security
Software Security
Free Softwares
Password Softwares
Password Security
Recover Password
Anti-virus
Anti-Spyware
System Security
Network Security
VPN Security
Cyber Security
Wifi/Wireless Softwares
Wifi/Wireless Security

Windows Security
Windows Softwares
Free Tools
Free Security Tools
Infosec Security
Infosec Training
Security Training
Security Conference
Security Tools
Security Softwares
Download Software
Adware Remover
Malware Remover
Computer Forensics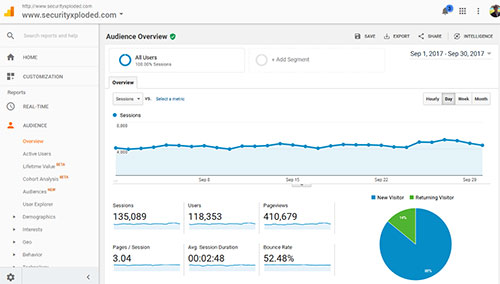 Unique Visitors Per Month: 118,300
Total Page Views per Month: 410,600
Facebook Followers: 65,000
Twitter Followers: 9000
Email Subscription List: 40,000+
Website Founded: April 2007 (10+ Years)
Total Free Softwares: 240
Total Downloads: 20 Million+
Note: Above stats updated every 3 months, for latest info please contact us.
Here are our industry beating advertisement price for different ad-blocks & placements,
125x125
Sidebar (2nd slot)
$199
$149
$99
300x250
Sidebar (4th slot)
$399
$299
$199
728x90
Download List Page
$499
$399
$299
728x90
Download Page
$699
$599
$499
Note: Click on Pay Now button above to buy your AD blocks. For multiple months entire amount for all (2 or 3) months needs to be paid.
We also have high traffic internal product pages which are good spots for internal text or banner ads with higher ROI. Contact us for more details.
SecurityXploded currently enjoys 30,000+ Email List susbscribers. That brings great opportunity for you to offer your security related products, trainings & services to our audience.

Right now we offer only one Advertising Space of 728x90 (at the end of newsletter) as shown below,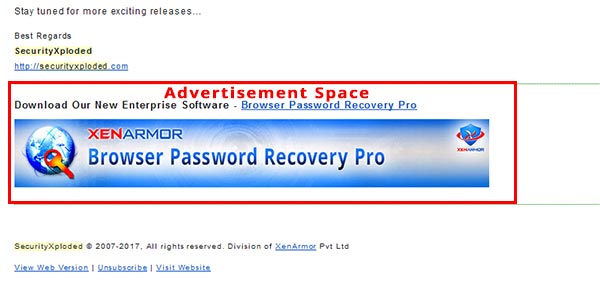 Current Offer Price: $299/month (Regular Price $499/month )
Note: We offer special discount on multiple months booking. Kindly contact us in such cases.
We also offer Sponsored Post opportunities for you,
Here are the the terms & conditions
Content should be security or network related
Sponsored Post will be published on our blog
Max 3 links per sponsored post
Link to Red Sites as per SiteAdvisor or Virustotal is not allowed
End of the post you should mention "This post was sponsored by ...." (as per FTC regulations)
It will take us 3-5 Days to publish post once the payment is received
One Year
$199
5 Years
$299
10 Years
$499
Permanent
$999
For better pricing on long term posts or any other queries contact us. For 10 Years or more booking, we offer Free Promotion of your post on our Facebook page (65,000+ followers).
We can also help you promote your products/services through variety of campaigns as mentioned below,
Social Media Posting (Facebook/Twitter)
Sponsored Email to our Subscribers
Co-bundle Your Software in our Softwares
Give Away on our website
In case you have new ideas of promotion we are eager to hear from you as well.

Just write to us at contact [at] securityxploded.com and we will ping you back.