| | |
| --- | --- |
| | IE Password Decryptor is the FREE software to quickly and easily recover all the stored passwords from Internet Explorer. |
It automatically detects the installed IE version and use appropriate technique to successfully decrypt all the stored passwords.
It can recover passwords from all versions of Internet Explorer starting from version 4.0 to latest version 11.0.
One of the unique feature of this tool is that it can recover passwords (from IE v7-v11) for popular websites without depending on the history.
It also presents 'IE History Manager' interface which not only displays the contents of IE history in detail but also provides the option to add/remove websites with ease.
For command-line version, check out our new tool - IE Password Dump.
It works on both 32-bit & 64-bit platforms starting from Windows XP to new Windows 10 version.
Recover Autocomplete and HTTP basic authentication passwords
Support all versions of Internet Explorer from v4.0 to v11.0
Presents both GUI and Command-line interface.
Smart mode - Automatically Recover Passwords for Popular Websites without depending on the history URLs.
Useful for Penetration testers and Forensic investigators.
Feature to reset the 'Content Advisor Password' of Internet Explorer
Export option to back up the decrypted password list to HTML/XML/Text/CSV file.
Includes 'History Manager' which displays websites stored in IE history along with option to add/remove entries
'Add Website' option to add website link to existing IE history to help in recovering password for which website link is not present in IE history (applicable for IE v7-v11).
Includes Installer for assisting you in local Installation & Uninstallation.
Internet Explorer stores two type of passwords, Autocomplete and HTTP basic authentication based passwords. Autocomplete passwords are normal website login passwords such as email, forum websites. HTTP basic authentication password is the one which is required to login to website itself.

Internet Explorer below version 7 stores both Autocomplete and HTTP basic authentication passwords in the secure location known as 'Protected Storage'. Windows has introduced 'Protected Storage' to allow applications such as IE, Outlook to store the secrets securely in an encrypted format. Below is the registry location corresponding to the 'Protected Storage'.
HKEY_CURRENT_USER\Software\Microsoft\Protected Storage System Provider

With version 7 onwards IE has changed the location of password store to provide better security mechanism compared to existing 'Protected Storage'. Now IE stores all the Autocomplete passwords in below mentioned registry location in an encrypted format.
HKEY_CURRENT_USER\Software\Microsoft\Internet Explorer\IntelliForms\Storage2
The HTTP basic authentication passwords are stored in the 'Credentials store'. The 'Credentials Store' is newly introduced secret store mechanism by Windows and it is generally used to store the network login passwords. Its location is given below.

[Windows XP]
C:\Documents and Settings\[username]\Application Data\Microsoft\Credentials

[Windows Vista\Windows 7]
C:\Users\[username]\AppData\Roaming\Microsoft\Credentials
IE v10.x-v11.x (Windows 8/Windows 10) onwards stores the passwords in Windows Vault or Credential Manager.
IEPasswordDecryptor automatically detects the IE version and correspondingly decrypt the username/passwords from the appropriate secret store.

For more detailed technical information on decrypting the passwords from IE store read the article on 'Exposing the Password Secrets of Internet Explorer'.
IEPasswordDecryptor comes with Installer to assist in local installation and un-installation. It has intuitive wizard which guides you through series of steps in completion of installation.
At any point of time, you can uninstall the product using the Uninstaller located at following location (by default)
[Windows 32 bit]
C:\Program Files\SecurityXploded\IEPasswordDecryptor

[Windows 64 bit]
C:\Program Files (x86)\SecurityXploded\IEPasswordDecryptor
IEPasswordDecryptor is a portable application and can be run anywhere directly. It comes with both IE password manager as well as IE history manager feature
Launch the IEPasswordDecryptor on your local system.
It will automatically detect the Internet Explorer version and displays Autocomplete as well as HTTP basic authentication passwords.
You can double click on any of the displayed entry to visit the website directly for quick verification.
Next you can save the username/password list to

HTML/XML/TEXT/CSV

file by clicking on 'Export' button and then select the type of file from the drop down box of 'Save File Dialog'.
It also provides option to reset the IE content advisor password.
After launching the IEPasswordDecryptor, click on 'IE History Manager' tab as shown in the screenshot 2 below.
It will display all the websites from IE history along with website link, website title and visited date.
You can use the Remove/'Remove All' button to remove either single or all websites from IE history.
Next you can save this history list to html file by clicking on 'Save to HTML' button.
Optionally, you can use 'Add website' button to add website link to existing IE history. This will help in recovering password for the website whose entry is missing from IE history. Because IE v7 - v11 require website link to recover the stored password.
Screenshot 1: IE Password Decryptor showing the recovered website username & passwords from Internet Explorer v11 on Windows 10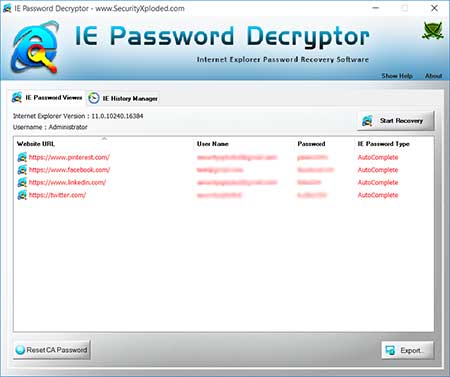 Screenshot 2: Revealing History data from Internet Explorer
Screenshot 3: HTML Report of recovered username/passwords from Internet Explorer v11
Mega release with a support for password recovery from new IE v11.x on Windows 10 version. Also presents brand new GUI interface.
New feature added to Installer to dynamically download latest version
Minor updates to Installer. Also removed false positive with Antivirus solutions.
Integrated Uninstaller into Windows Add/Remove Programs, now you can uninstall it in a standard way.
Added more popular website links to smart mode password recovery. Improved installer screen.
New feature to generate password recovery report in CSV (Comma-Seperated Values) File Format.
Mega release supporting password recovery from Internet Explorer 10 on Windows 8. Also fixed the Version display for IE 10.
Fixed the random crash problem due to cmdline initialization. Added HTTP SSL Login links for Facebook & Twitter accounts.
Added more popular website login links for Smart Password Recovery. Fixed the screen refresh problem.
Introducing Smart Mode - Now it automatically recovers passwords for popular websites even though these links are not present in History. Duplicate entries are removed now. Improved UI with cool icon & banner.
Improved UI changes, Fixed issue with deletion of IE history, Enhanced HTML report.
XML based report generation in GUI/Command-line mode, Improved HTML reports etc.
Presents command-line interface, improved user interface with new banner, icons and better HTML report.
Added new logo, link for passwordforensics.com in about section and few bug fixes.
vibrant look & feel with new banner and refined interface. It includes the software update verifier to automatically check for new versions. Brings in Installer with 'Intuitive Setup Wizard' which allows you to locally install this software on your system.
This version presents the enhanced look & feel with cool button interface.
Support for Windows 7 version. Added functionality to display multiple account information for IE 6 autocomplete entries.
First public release of IEPasswordDecryptor supporting the recovery of sign-on passwords from all versions of Internet Explorer along with support for managing IE history.