Yahoo Password Decryptor
Yahoo Password Decryptor

is the FREE software to instantly recover Yahoo Login passwords from popular web browsers and instant messengers.
It can recover saved Yahoo Login passwords from following applications
Firefox
Internet Explorer
Google Chrome
Chrome Canary/SXS
CoolNovo Browser
Opera
Apple Safari
Flock Browser
Comodo Dragon Browser
SeaMonkey Browser
PaltalkScene IM
Pidgin (Formerly Gaim)Messenger
Miranda Messenger
It has both GUI interface and command line version in single tool making it useful for Penetration testers & Forensic investigators
It works on wide range of platforms starting from Windows XP to latest operating system Windows 8.
Instantly decrypt and recover stored encrypted passwords from popular web browsers & messengers.


Comes with both GUI interface as well as

Command-line

version.


Recover password of any length and complexity.


Automatically discovers all supported Applications and recovers all the stored passwords.


Sort feature to arrange the recovered passwords in various order to make it easier to search through 100's of entries.


Save the recovered password list to

HTML/XML/Text file



Easier and faster to use with its enhanced user friendly GUI interface.


Support for local Installation and uninstallation of the software.
This video shows how to instantly recover stored Yahoo Login Passwords using YahooPasswordDecryptor both GUI as well as command line version.
YahooPasswordDecryptor comes with Installer so that you can install it locally on your system for regular usage. It has intuitive setup wizard which guides you through series of steps in completion of installation.
At any point of time, you can uninstall the product using the Uninstaller located at following location (by default)
[Windows 32 bit]
C:\Program Files\SecurityXploded\YahooPasswordDecryptor

[Windows 64 bit]
C:\Program Files (x86)\SecurityXploded\YahooPasswordDecryptor
Yahoo Password Decryptor is easy to use with its simple GUI interface.

Here are the brief usage details

Launch YahooPasswordDecryptor on your system
Next click on

'Start Recovery'

button and all stored Yahoo Login passwords from various applications will be recovered & displayed as shown in screenshot 1 below.
Finally you can save all recovered password list to

HTML/XML/Text

file by clicking on 'Export' button and then select the type of file from the drop down box of 'Save File Dialog'.
Here is the typical usage of command line version
YahooPasswordDecryptor.exe "<output_file path>"
Here are some of the examples

//Writes recovered password to text file in current directory
YahooPasswordDecryptor.exe output.txt

//Writes recovered password to HTML file in current directory
YahooPasswordDecryptor.exe output.html

//Writes recovered password to XML file in current directory
YahooPasswordDecryptor.exe output.xml

//Writes recovered password to TEXT file
YahooPasswordDecryptor.exe "c:\my test\passlist"

It automatically detects the mode (TEXT/HTML/XML) by using the extension of the specified file (txt/html/xml). By default (or if no extension is specified) it uses the TEXT mode. For more examples refer to Screenshot 2 below.
Screenshot 1:YahooPasswordDecryptor is showing the recovered Yahoo Login passwords for popular applications.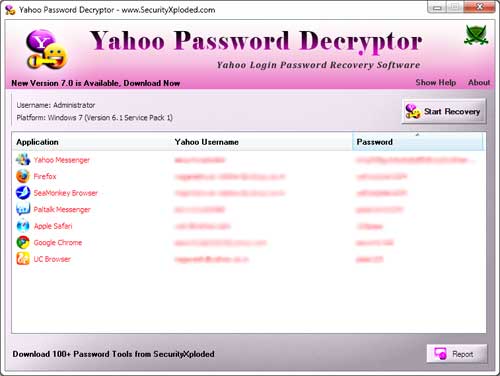 Screenshot 2: Command line usage of YahooPasswordDecryptor showing various examples.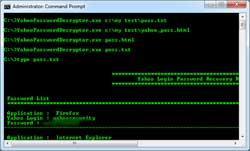 Support for Password Recovery from Comodo Dragon browser.
Now supports recovering Yahoo passwords from Chrome SXS, CoolNovo & SeaMonkey browsers.
Right click 'Copy Password' menu to quickly copy the recovered password. Improved reports and UI interface.
Support for report generation in XML and Text format along with existing HTML format. Export XML feature works in both GUI as well as command-line mode.
Added new logo & links for passwordforensics.com in about section and few code changes
Support for password recovery from Apple Safari, Flock browsers. Fixes for Chrome, Firefox. Included portable version along with Installer.
First public release of YahooPasswordDecryptor
YahooPasswordDecryptor is not a hacking tool as it can recover only your stored passwords. It cannot recover the passwords for other users unless you have right credentials.

Like any tool its use either good or bad, depends upon the user who uses it. However Author or SecurityXploded is not responsible for any damage caused due to misuse of this tool.

Read complete License & Disclaimer terms here.