SSLCertScanner is the FREE SSL certificate scanner tool which can remotely scan, retrieve and validate the SSL certificate from any host either on the intranet or internet.

It can greatly help you to track expired/rogue certificate on your SSL servers.
You can either enter the IP address or name of the host such as www.facebook.com.
On successful completion, important certificate details are displayed along with status of validation. You can also view the complete details of SSL certificate by simply double clicking on it.
It supports both HTTPS (port 443) as well as LDAPS (port 636) service for scanning SSL certificate.
SSLCertScanner works on wide range of platforms starting from Windows XP to latest operating system Windows 10.
Remotely scan SSL certificate on any host within the intranet or internet.
Scan by using hostname (google.com etc) or IP address of the host
Support for scanning SSL certificate associated with LDAPS and HTTPS service.
Manually specify the custom SSL Port number.
View the complete SSL certificate of the host.
Displays detailed status for each host during scanning operation.
Automatically validates if the certificate is expired or not.
For each SSL certificate discovered during the scan, following details are displayed

Host Address
Certificate Subject Name
Certificate Issue Date
Certificate Expirty Date
Certificate Validation Status

Option to stop the scan at any point during scanning operation.
Generate SSL Scan report in HTML/TEXT/XML file format
However it has some limitations such as only single host scanning at a time, no support for database integration, report generation, no custom port scanning etc.

For more advanced features have a look at our Enterprise Edition -

NetCertScanner
Though SSLCertScanner is a

Portable

tool, it comes with Installer so that you can install it locally on your system for regular usage. It has intuitive

setup wizard

which guides you through series of steps in completion of installation.
At any point of time, you can uninstall the product using the Uninstaller located at following location (by default)
[Windows 32 bit]
C:\Program Files\SecurityXploded\SSLCertScanner

[Windows 64 bit]
C:\Program Files (x86)\SecurityXploded\SSLCertScanner
SSLCertScanner is a standalone tool and can be run directly from any system.
Here are brief usage instructions,
Launch SSLCertScanner on your system
Enter the host name or IP address of the host.
Then select the SSL service -

HTTPS

(port 443) or

LDAPS

(port 636).
Finally click on

'Start Scan'

to begin the scan.
On starting scan, it scans the specified host and displays all details from SSL certificate as shown in the screenshot below.
Now you can double click on the certificate entry or click on

'View Cert'

to view the complete certificate.
Finally you can generate detailed scan report in

HTML/XML/Text

format by clicking on Report button and then select the type of file from the drop down box of 'Save File Dialog'.
Screenshot 1:

SSLCertScanner showing all the scanned host list along with validation results.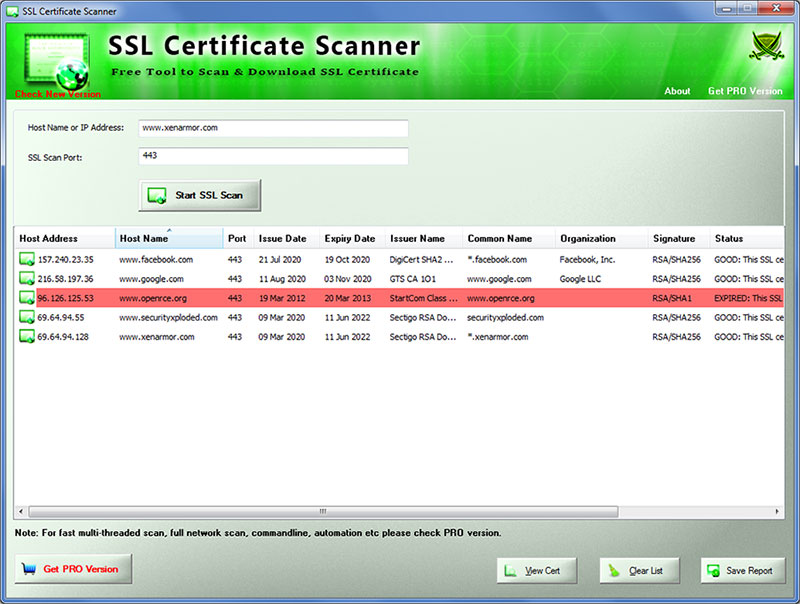 Screenshot 2: SSLCertScanner showing the SSL certificate for

www.Facebook.com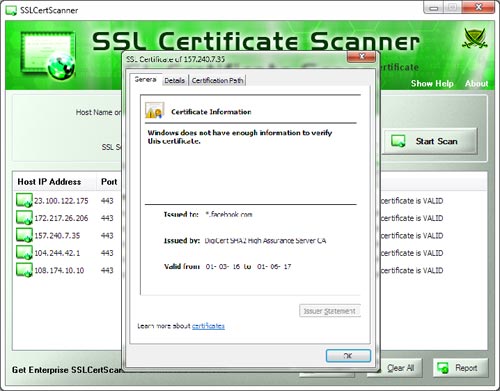 Screenshot 3: Detailed HTML Scan report generated by SSLCertScanner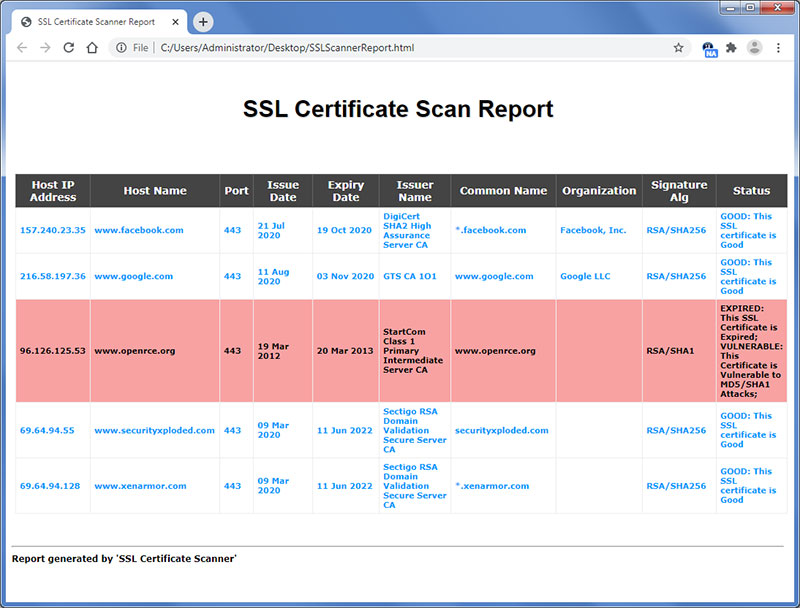 Mega 2017 edition supporting 130+ Cipher Suites
Major release feauring new GUI enhancements. Also integrated new installer for simple installation & un-installation.
Mega 2016 release with support for new Windows 10 version. Also improved GUI interface with new banner and icon.
Generate SSL Certificate Scanner Report in XML and TEXT format (in addition to HTML)
Support for generating SSL Certificate Scanner report in HTML format.
Minor performance improvements. Fixed the screen refresh problem after the application gets in the background.
Added feature to automatically remember and restore user settings.
Right click context menu to quickly copy the scanned certificate information. Minor UI improvements.
Displays SSL Port number in the scanner SSL certificate list. Few minor UI changes and bug fixes.
Now you can manually specify the SSL Port number. Useful when your SSL service is running on non-standard port. Displays message box on completion. Improved banner.
Added support for entering hostname as well as IP address. Now you can view the certificate by clicking on 'view cert' button or simply double clicking on the certificate entry.
Updated information about Enterprise Edition, Fixed few bugs.
Integrated 'Setup Wizard' for smooth local Installation and Uninstallation. Auto Update Feature to check for new versions.
First public release of SSLCertScanner.