Download Hash Verifier is the FREE tool to verify the integrity of your downloaded file.

It makes file hash verification easier and quicker with its smart features such as 'Auto Hash Detection', 'Drag & Drop File', 'Instant copy from Clipboard' etc
Hash verification is a standard mechanism used to verify that downloaded file is original and not tempered. Often it happens that hackers modify the download files on the server and plant it with trojans/spywares.
Upon downloading and installing such softwares your PC will get infected eventually. To prevent such things, websites generally publish MD5 or SHA256 hash of the original file so that you can verify the same after you have downloaded the file. This will ensure that in case of any tempering with the file, end user will come to know about it and possibly alert the website administrator.
DownloadHashVerifier is designed to make this verification task easier and faster for end users. It supports both MD5 and SHA256 hash verification methods so you don't have to use multiple tools. Also it can automatically differentiate between MD5 & SHA256 hash methods without user explicitly mentioning it
It works on wide range of platforms starting from Windows XP to latest operating system Windows 8.
Easily & Quickly verify the hash for your downloaded file.
Right click context menu integration - launch directly by right clicking on the downloaded file.
Supports popular MD5 & SHA256 hash verification
Auto Hash Detection - Automatically detects input hash data as MD5 or SHA256
Automatically validates & copies the hash data from clipboard
'Drag & Drop' feature to quickly choose your downloaded file.
Save the verification result to HTML or TEXT file
Completely Portable Tool which also comes with Installer for local Installation & Uninstallation.

Though DownloadHashVerifier is a Portable tool, it comes with Installer so that you can install it locally on your system for regular usage. It has intuitive setup wizard which guides you through series of steps in completion of installation.
At any point of time, you can uninstall the product using the Uninstaller located at following location (by default)
[Windows 32 bit]
C:\Program Files\SecurityXploded\DownloadHashVerifier

[Windows 64 bit]
C:\Program Files (x86)\SecurityXploded\DownloadHashVerifier
DownloadHashVerifier is GUI application which comes with simple interface and makes it easy to use even for beginners.

Here are simple steps
Launch DownloadHashVerifier application on your system.
Select the file by clicking on Browse button or Simply Drag and Drop your downloaded file
Next copy the hash (md5/sha256) for this file from the website. It will automatically copy and detect the type of hash.
Next Cilck on

'Verify Hash'

button. It will generate a new hash and compare both the hashes to dispaly the result as shown below.
After that you can export the report to

HTML/Text

file by clicking on 'Export' button and then select the type of file from the drop down box of 'Save File Dialog'.

Here instead of selecting a file you can also directly enter or paste any text (up to 250 characters) and generate the hash for it.
Screenshot 1:DownloadHashVerifier is verifying the downloaded file based on SHA256 hash.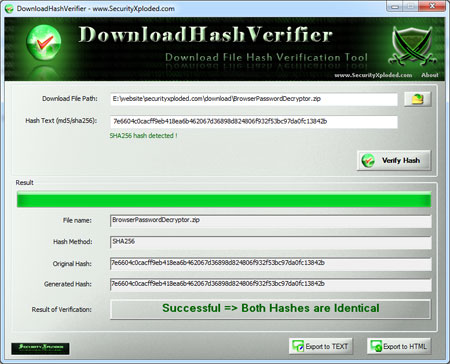 Screenshot 2: HTML based File hash verification report generated by DownloadHashVerifier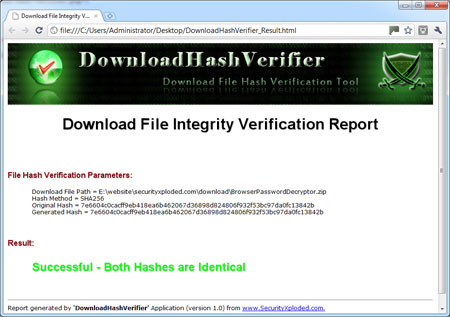 New feature added to Installer to dynamically download latest version. Also made minor GUI enhancements.
Integrated Uninstaller into Windows Add/Remove Programs, now you can uninstall it in a standard way.
Major version with support for File Verification using SHA1 hash method
Improved GUI interface with magnifying icon effects.
Added quick download link in the dialog. Fixed the problem in Drag & Drop of file. Also broken link in HTML report is corrected.
Fixed the broken executable on Windows XP
New improved GUI interface with cool banner. Includes minor usability related fixes.
Right click context menu integration - now you can directly launch it by right clicking on the downloaded file. Other changes include Export to HTML/Text option in one button, Enhnaced user interface with new banner etc.
First public release of DownloadHashVerifier