| | |
| --- | --- |
| | Joomla Password Reset is the free tool to quickly generate new Joomla Password Hash and reset your lost or forgotten Joomla Password. |
Joomla is the popular open source content management system (CMS) for publishing content on the World Wide Web. Once it is setup, administrator can login to Joomla Management Console and configure all aspects of their hosted website.
However if the admin password is lost then there is no way to login & manage the website. In such cases, 'Joomla Password Reset' helps you to quickly generate new password hash and then you can reset the admin password by updating this new password hash in Joomla Database.
'Joomla Password Reset' has been successfully tested against all Joomla setups starting from v1.5 to latest version v2.5.x

Being a desktop tool (compared to some of the online tools), it helps you to keep your password secret and protect your Joomla setup from any future hacking events.

It supports both 32 bit/64 bit versions and works on all Windows Platforms starting from Windows XP to Windows 8.
JoomlaPasswordReset comes with Installer so that you can install it locally on your system for regular usage. This installer has intuitive wizard which guides you through series of steps in completion of installation.
At any point of time, you can uninstall the product using the Uninstaller located at following location (by default)
[Windows 32 bit]
C:\Program Files\SecurityXploded\JoomlaPasswordReset

[Windows 64 bit]
C:\Program Files (x86)\SecurityXploded\JoomlaPasswordReset
'Joomla Password Reset' is very easy to use tool with its cool GUI interface.
Here are brief usage instructions,
Launch 'Joomla Password Reset' on your system
Enter the new password of your choice and click on 'Create Password'.
It will quickly generate the password hash and display it as shown in the screenshot below.
Next you can click on 'Copy Password' to copy it.
Now you can go ahead and update this Password Hash in your Joomla Database as explained below
To reset the Joomla Password, you have to set this Password Hash for admin user in your Joomla Database.
Here is the Mysql Query to set the new Password Hash for admin user.
UPDATE jos_users SET password = <new_password_hash> WHERE username = admin
Here <new_password_hash> is the new Password Hash generated by 'Joomla Password Reset' tool. Once the Password hash is reset, you can login to Joomla Management Console by entering the new password that was used to generate this password hash earlier.
Here is the screenshot of 'Joomla Password Reset' generating new Joomla Password Hash.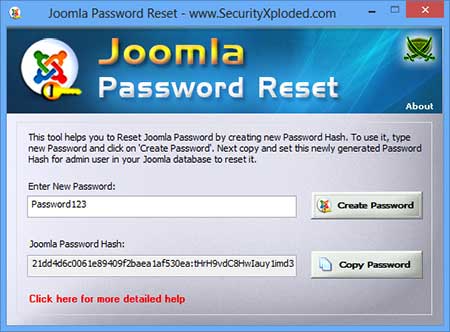 Added feature to automatically copy the generated password to clipboard
First public release of JoomlaPasswordReset