| | |
| --- | --- |
| | Hash Compare is the FREE File Hash comparison tool. It performs Hash based Integrity Comparison using any of the the popular hash algorthms such as MD5, SHA1 or SHA256. |
To make the task easier and quicker, it also supports the 'File Drag & Drop' feature. That means you can just drag & drop one or both files directly without wasting much time in selecting them.
Hash based method is the standard way of verifying the integrity of files. Often it is used to check the Integrity of Download Files downloaded from the internet. It is also used to compare two versions of the same file. In such cases HashCompare comes handy in performing quick comparison of the files.
It is fully portable and works on all Windows platforms starting from Windows XP to Windows 8.
Performs File Integrity Comparison using popular Hash algorithms such as MD5, SHA1 & SHA256.
'Drag & Drop' feature to quickly drag one or both files.
Save the file comparison report to HTML/TEXT/XML file
Displays detailed status during the operation.
Auto copy the Hash data to clipboard on successful comparison
Simple, easy to use GUI Interface.
Completely Portable Tool, can be run from anywhere.
Though HashCompare is a Portable tool, it comes with Installer so that you can install it locally on your system for regular usage. It has intuitive setup wizardwhich guides you through series of steps in completion of installation.
At any point of time, you can uninstall the product using the Uninstaller located at following location (by default)
[Windows 32 bit]
C:\Program Files\SecurityXploded\HashCompare

[Windows 64 bit]
C:\Program Files (x86)\SecurityXploded\HashCompare
Hash Compare is GUI application which comes with simple interface and makes it easy to use even for beginners.

Here are simple steps
Launch HashCompare application on your system.
Select 2 files by clicking on Browse button or Simply Drag and Drop a file or Directly type the full file path in the edit box. You can also drag & drop 2 files at once.
Next select one of the HASH algorithm and cilck on 'Compare Files' button.
Now you will see the hashes for both files being computed one by one and result of comparison is displayed.
Finally you can export the detailed report of comparison to

HTML/XML/Text

file by clicking on 'Export' button and then select the type of file from the drop down box of 'Save File Dialog'.

Screenshot 1:Hash Compare is showing the file integrity comparison operation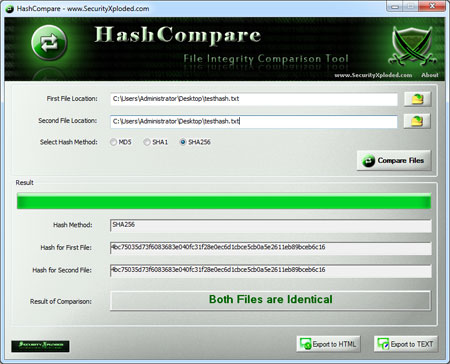 Screenshot 2: File comparison result exported to HTML file by Hash Compare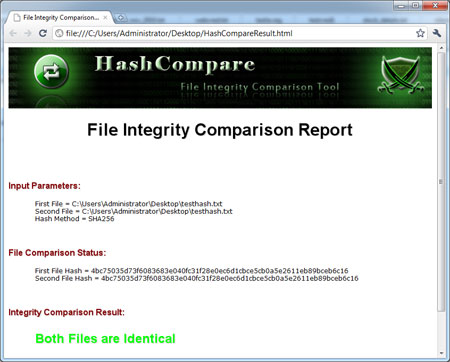 Automatically copy the Hash text to clipboard on successful comparison. Improved GUI interface with glowing icon effects.
Support for Windows 8. Added quick tool download link. Fixed the bug in Drag & Drop of files.
Support for saving result to XML file along with existing HTML/Text file support. UI Improvements with new cool banner & icon.
First public release of HashCompare
This tool would not have been possible without open contribution from bright minds, We would like to extend our gratitude towards following individuals/groups for their contribution