Jailbreaking HTC Wildfire to Run Latest Android
Author:
Rishabh Dangwal
In this exciting tutorial

Rishabh

explains how he has rooted (

Jail-breaking in Apple world

) HTC wildfire to get rid of old Android 2.2.1 to install latest

Android 2.3

version. Here is the fun game in his own words with beautiful illustrations.

Sometime ago I got an

HTC Wildfire

and was having loads of fun using it, but every time I wanted to do anything more

"creative"

i was stopped by the binded nature of phone, hence i decided to

root it

(jailbreak it apple fellas) and get complete control over my device. Here, I am covering step by step guide to root HTC wildfire 2.2.1 and install

Android 2.3 on HTC Wildfire

.

To do the rooting you must have your Wildfire with S-OFF, HBOOT 1.02.0002 and Android 2.2.1 . You can check it by booting into

HBOOT

(power on your phone by holding the VOLUME DOWN + POWER button) .This method is

strictly for the 2.2.1 owners

. How you can turn the S-OFF is your headache, you can try the alpharev (ask the team if they can get you a 2.0 test version... :P) or you can wait for Unrevoked 3.33 or you can straight off go to market and hunt for

XTC clip

. Either way, try it and don't attempt to anything before you get

S-OFF

. Actually the notorious S-ON flag is the cause rooting wildfire is such a pain in the a**.
Before I had this one (HTC Wildfire with Android 2.2.1)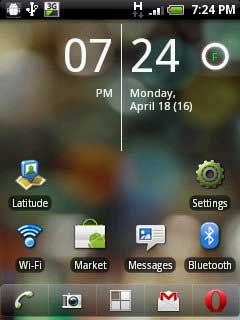 After this game, I converted it to like this with latest

Android 2.3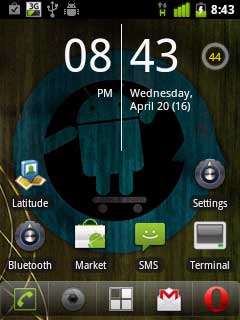 or better :)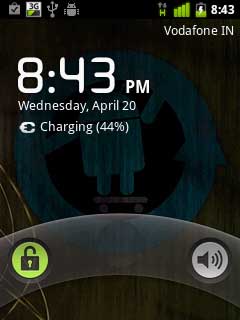 This tutorial is intended for educational purposes only and the author or the publisher or this site can not be held liable for any kind of damages done whatsoever to your machine, or damages caused by some other,creative application of this tutorial.

In any case you disagree with the above statement, please stop here.
Before we begin, you need following things in place,
HTC wildfire with S-OFF , HBOOT 1.01.0002 , OS Froyo 2.2.1
Time and Patience & last but not the least,
Balls of Steel
Once the ground is set, we can now move on to step by step instructions with illustrations to finally root on HTC and get latest

Android 2.3

on it.
Download USB drivers and extract them on desktop. Turn off your wildfire and boot into

HBOOT

by holding the VOLUME DOWN + POWER button. Connect your phone to your PC and it will show "drivers installing" or similar there for Android device. When prompted , install the drivers by going to device manager and browsing to the folder where you extracted the drivers. Once installed, disconnect and reboot your phone normally.

Now you need to install the Android bootloader interface. Connect it to your HTC wildfire to the PC and it will ask for drivers again, Now go to device manager, click on unknown device,
click on update driver -> install from specific location -> No i will choose to install -> choose Android phone and click on adb interface -> click next -> when asked to install click on continue anyway, just install them.

Once done you will see your phone recognized as "Android bootloader interface". Now disconnect your phone and go into

settings -> applications - > development - > enable USB Debugging.
Congratulations, the first step is completed now.
Download the RUU rom which is an original stock rom. Plug your phone into the PC and set it to

"Charge through USB"

. Double click RUU rom .exe. Follow the on screen instructions and then let it install. Your phone will reboot into stock HTC 2.1 :) This will be the last time you will be seeing it though.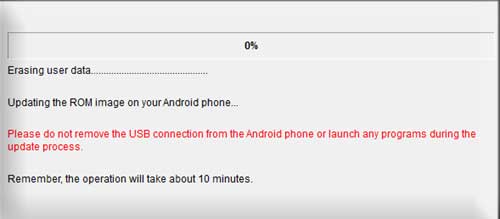 The HBOOT version will be now 0.80.0002 (check it by powering on your phone by holding the

VOLUME DOWN + POWER

button). Once done disconnect your phone.

Download the test version of unrevoked. Let me repeat,

DO NOT USE UNREVOKED 3.32

as it will lead to CID errors or to be precise this error
"validation error backup cid is missing"
This may be caused as the 3.32 doesnot support HBOOT 0.82.0002. Hence You need specific test version of

Unrevoked

3.2 to do the job. Download it, save it on desktop, and run it. Now connect your phone and the rooting will start. Once donw, you will have

Clockworkmod

recovery installed on your phone. Reboot your phone now (using the VOLUME UP/DOWN key for navigation and clicking using TRACKBALL, the POWER button takes you back in menus). Once rebooted, you will see the superuserapp in your phone and congratulations, your phone is successfully rooted :)
Download the

Cyanogenmod 7

with google apps and save it on desktop, connect your phone as USB diskdrive and transfer both zip files on SD card. Once done, reboot your phone into ClockworkMod Recovery (booting by holding the VOLUME DOWN + POWER button and clicking on recovery)

Once the device boots into the ClockworkMod Recovery, use the side VOLUME buttons to move around, and either the POWER button or the TRACKBALL to select.
Select the option to Wipe data/factory reset.
Then select the option to Wipe cache partition.
Select Install zip from sdcard.
Select Choose zip from sdcard.
Choose update-cm-7.0.0-buzz-signed.zip & Let it install.
Once done, Select Install zip from sdcard.
Select Choose zip from sdcard, choose gapps-gb-20110307-signed.zip
Once the installation has finished, to get back to the main menu by clicking the POWER button and select the Reboot system now option
Congratulations !

Now your

HTC Wildfire

should now boot into

CyanogenMod

as shown in screen below.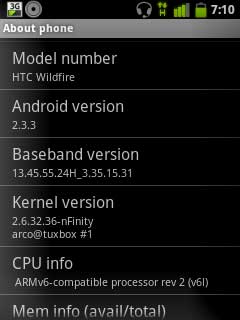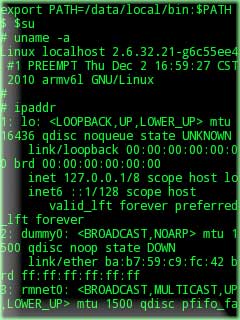 Finally r00ted :)
Special thanks to

3xeno

. Greetz fly to

Singla

|

Parul

|

Nilesh

|

Satwik Bhai

|

Broken Angel

|

Rahul Bhai