Outlook Password Decryptor

Version: 14.0
| | |
| --- | --- |
| | Outlook Password Decryptor is the FREE tool to instantly recover your lost or forgotten email password for all versions of Microsoft Outlook. |
It supports password recovery from all Outlook versions (Outlook 2021, 2019, 2016, 2013, 2010, 2007, 2003, XP).

Outlook stores the password so that user don't have to enter it everytime. This password is stored in the encrypted format and only respective user can decrypt the password. Outlook Password Decryptor can instantly decrypt and recover all your email passwords.

Outlook Password Decryptor works on wide range of platforms starting from Windows Vista to new Windows 11 version.
Outlook Password Decryptor is the all-in-one tool to recover passwords from all versions of Outlook.

Also it can decrypt passwords from different type of Email account configurations supported by Outlook, such as
Exchange Server
IMAP
POP3
SMTP
LDAP
HTTP
On starting, it automatically detects the current Outlook version along with user & platform information. It also provides option to save the recovered password list to HTML file
Different versions of Outlook uses different location and mechanism to store the account password along with other details such as email and server information.

Outlook Express, 98 and 2000 versions store the remembered password in the 'Windows Protected Storage' similar to older versions of Internet Explorer. The password link and other account information are stored at one of the below mentioned registry locations.
HKEY_CURRENT_USER\Software\Microsoft\Internet Account Manager\Accounts
HKEY_CURRENT_USER\Software\Microsoft\Office\Outlook\OMI Account Manager\Accounts
Outlook version starting from 2002 to 2010 stores the account password (other than Exchange Server) in encrypted format at following profile location
[Windows NT onwards]
HKEY_CURRENT_USER\Software\Microsoft\Windows NT\CurrentVersion\Windows Messaging Subsystem\Profiles

[Prior to Windows NT]
HKEY_CURRENT_USER\Software\Microsoft\Windows Messaging Subsystem\Profiles
Latest Outlook 2013, 2016, 2019, 2021 (version 15.0/16.0) stores the account configuration along with encrypted password at following location
HKEY_CURRENT_USER\Software\Microsoft\Office\15.0 or 16.0\Outlook\Profiles\Outlook
Newer versions of Outlook store the 'Exchange Server' based passwords in the credential provider (like network passwords) which is more secure than other methods.
It is very simple and easy to use.. You can just start it by double clicking on the executable file.
Here are the brief usage details....
On launch, it will display current Outlook version, logged in user name & OS version information.
Now click on 'Start Recovery' button and it will instantly decrypt all types of stored passwords by Outlook.
It will display clear text password along with other details such as Email address, User name, Account type and Server name.
Finally save the recovered password list to HTML/TEXT/XML/CSV file by clicking on 'Save Report' button and then select the type of file from the drop down box of 'Save File Dialog'..
Screenshot 1: Outlook Password Decryptor showing the recovered passwords from different type email accounts stored by Outlook.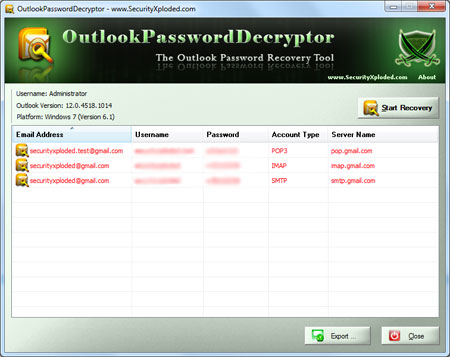 Major 2023 release with improved Outlook password recovery from Windows Credentail Manager.
New 2023 release with enhanced Outlook password recovery. Also removed support for Windows XP.
Mega 2022 release supporting new Windows 11 platform. Also recover passwords from Outlook 2021.
Improved Outlook password recovery from latest Outlook version and other GUI enhancements.
Major 2020 release supporting Outlook password recovery from Credential Manager and Office 365.
Mega 2019 edition with improved Outlook Password Recovery operation. Also fixed false antivirus alerts.
Major release to support Outlook 2016 password recovery. Also enhanced user interface.
Updated to resolve antivirus false positive warnings
Featuring brand new Installer with simple installation & un-installation.
Major version with speed improvements in outlook password recovery operation
Mega release with support for new Windows 10 version. Also fixed the sizing problem with higher resolution computers.
New feature added to Installer to dynamically download latest version
Added minor updates to Installer.
Integrated Uninstaller into Windows Add/Remove Programs, now you can uninstall it in a standard way.
Removed false positive with various Antivirus solutions
New feature to generate password recovery report in CSV (Comma-Seperated Values) File Format.
Improved GUI interface with glowing icons effects. Fixed the Outlook version detection for 64-bit platforms.
Fixed the buffer overflow bug in outlook password recovery
Now it supports password recovery from Outlook 2013 (v15.0). Includes fix for OS version on Windows 8 & screen refresh problem.
Right click context menu to quickly copy the password, Support for Windows 8, Improved user interface and reports.
Support for report generation in XML format in addition to HTML/Text mode. Improved GUI interface and recovery reports.
Added new logo & links for passwordforensics.com in about section and few bug fixes.
New interface with cool banner & icon. Integrated Installer for local Installation & Uninstallation of software. Auto software update version detector.
First public release of OutlookPasswordDecryptor. Supports recovery of passwords from all version of Outlook starting from Outlook Express to Outlook 2010.
OutlookPasswordDecryptor is the free tool and designed for good purpose to help users to recover the lost outlook account passwords. Like any other tool its use either good or bad, depends upon the user who uses it. However author or SecurityXploded is not responsible for any damage caused due to misuse of this tool.