Browser History Spy

Version: 5.0
| | |
| --- | --- |
| | Browser History Spy is the all-in-one software to instantly recover or view the browsing history from popular web browsers. |
It helps in recovering or viewing web history from following browsers.
Mozilla Firefox
Internet Explorer
Google Chrome
Google Chrome Canary/SXS
CoolNovo Browser (Chrome variant)
Flock Browser (Chrome variant)
Opera Next Browser (Chrome variant)
Comodo Dragon Browser (Firefox variant)
Pale Moon Browser (Firefox variant)
SeaMonkey Browser (Firefox variant)
It automatically detects the right history database file based on the browser and current user configuration. You can also manually specify the different history file or Drag & Drop a file. This is useful when you have to recover the history from another system.

Browser History Spy works on most of the Windows platforms starting from Windows XP to latest Windows 10 version.
Easy to use tool with attractive GUI Interface.
Automatically detect the history database file for particular browser and user.
Option to manually specify the history file for Chrome/Firefox browsers.
Add/Remove the history URLs from Internet Explorer.
'Sort Feature' to sort the history list based on URL, Title, Date etc.
Save the recovered history list to HTML/XML/CSV file.
Fully Portable - You can directly run it from any Windows system.
Optional Installer for local installation/uninstallation on your system.
BrowserHistorySpy comes with Installer so that you can install it locally on your system for regular usage. It has intuitive setup wizard (as shown in the screenshot below) which guides you through series of steps in completion of installation.
At any point of time, you can uninstall the product using the Uninstaller located at following location (by default)
[Windows 32 bit]
C:\Program Files\SecurityXploded\BrowserHistorySpy

[Windows 64 bit]
C:\Program Files (x86)\SecurityXploded\BrowserHistorySpy
'Browser History Spy' is easy to use with its simple GUI interface.

Here are the brief usage details
Launch BrowserHistorySpy on your system
Now you can move to Firefox/Chrome/Internet Explorer tab to view the web history from respetive browser.
By default it will automatically display current history file. If not, you can manually select the right history file for your browser.
Now click on 'View History' and all the visited URLs from your browser will be displayed as shown in the screenshot below.
To make it easier, you can click on List header to sort it by URL/Title/Visits/Date.
Finally you can save the history list to

HTML/XML/CSV

file by clicking on 'Export' button and then select the type of file from the drop down box of 'Save File Dialog'
Note: To view web history of Chrome SXS/CoolNovo/Flock/Opera Next Browser use Google Chrome Tab and for SeaMonkey/Comodo Dragon/Pale Moon browser use Firefox tab.
Screenshot 1:BrowserHistorySpy is showing the recovered history list from Firefox browser.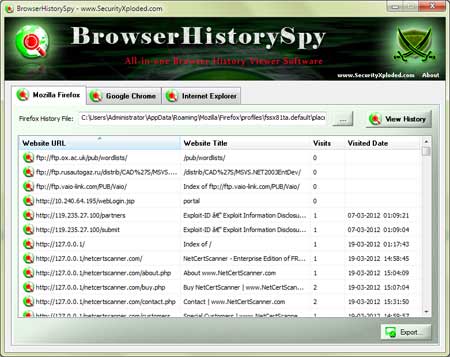 Screenshot 2: History List exported to HTML file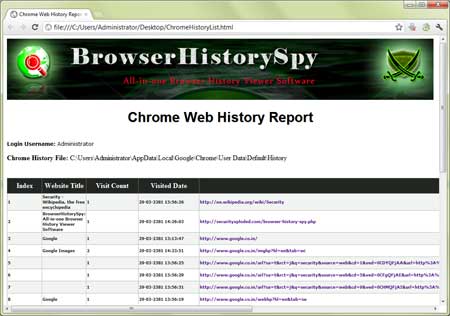 Mega 2017 edition supporting browser history display on Windows 10. Inlcudes enhanced GUI interface, Automatic sort by date, improved Firefox profile detection & new Windows Installer.
New feature added to Installer to dynamically download latest version. Also fixed minor bug in Chrome timestamp.
Integrated Uninstaller into Windows Add/Remove Programs, now you can uninstall it in a standard way.
Major version with support for displaying history from Opera Next, PaleMoon, Comodo Dragon & Flock web browsers. Fixed date/time display problem with Chrome history.
New feature to generate web browser history report in CSV (Comma-Seperated Values) File Format.
Fixed major problem with Recovering Firefox History. Tested successfully with latest Firefox version v21.0
Now you can view Web History of SeaMonkey & CoolNovo browsers also. Support for Drag & Drop of history file.
Improved user interface with cool new banner. Tested successfully with latest version of IE 10 (Win7), Firefox (v17.0.1) & Chrome (v23.0),
First public release of BrowserHistorySpy
BrowserHistorySpy is the clean and simple tool to help you recover and view web browsing history from your local browsers. Like any tool its use either good or bad, depends upon the user who uses it. However Author or SecurityXploded is not responsible for any damage caused due to misuse of this tool.

Read complete License & Disclaimer terms here.