Free PDF Password Remover

Version: 13.0
| | |
| --- | --- |
| | Free PDF Password Remover is the FREE tool to instantly unlock your PDF file by removing the password and all restrictions. It can remove both User & Owner password along with all PDF file restrictions such as Copy, Printing, Screen Reader etc. |
Often we receive password protected PDF documents in the form of mobile bills, bank statements or other financial reports. It is highly inconvenient to remember or type these complex and long passwords.'Free PDF Password Remover' helps you to quickly remove the Password from these PDF documents. Thus preventing the need to type these complex/long password every time you open such protected PDF documents.

Free PDF Password Remover can unlock any PDF file protected with all versions of Adobe Acrobat Reader using different (RC4, AES) encryption methods.

Note that it cannot help you to remove the unknown password. It will only help you to remove the existing password so that you don't have to enter the password everytime while opening the PDF file.

It makes it even easier with the 'Right Click Context Menu' integration. This allows you to simply right click on the PDF file and launch the tool. Also you can Drag & Drop PDF file directly onto the GUI window to start the password removal operation instantly.


It comes with Installer for quick installation/un-installation. It works on all Windows platforms starting from Windows Vista to Windows 11 version.
Instantly unlock PDF by removing password
Support for PDF documents protected by all versions of Adobe Acrobat Reader
Supports Standard RC4 (40-bit,128-bit), AES (128 bit, 256 bit) encryption
Removes PDF User or Open passsword
Removes PDF Owner Password or Permission Password
Remove all the following Restrictions from PDF document

Copying
Printing
Signing
Commenting
Changing the Document
Document Assembly
Page Extraction
Filling of Form Fields

Right click Context Menu to quickly select & remove the PDF Password
Drag & Drop support for easier selection of PDF file.
Very easy to use with simple & attractive GUI screen
Open PDF file on successful removal of password
Support for local Installation and uninstallation of the software.
A protected PDF Document may have 2 kind of Passwords. User Password & Owner Password.
User Password (Open Password): It is also called as Document Open Password. It is required to open the protected or secure PDF file.
Owner Password (Permission Password): Owner password is protect the restrictions imposed on the PDF file. Owner of PDF file may impose restrictions such as Copying, Printing, Signing, Editing etc. These restrictions are protected with so called Owner Password so that no one else can change it
Generally utility bills, bank & other financial documents are protected with User Password. In such case you can just enter this 'User Password' and open the document. Some times certain sensitive documents are protected with both user & owner password. In such cases you need to enter 'Owner Password' in 'Free PDF Password Remover' to remove the password & all other restrictions.
Free PDF Password Remover comes with Installer so that you can install it locally on your system for regular usage. It has intuitive setup wizard which guides you through series of steps in completion of installation.
At any point of time, you can uninstall the product using the Uninstaller located at following location (by default)
[Windows 32 bit]
C:\Program Files\SecurityXploded\FreePDFPasswordRemover

[Windows 64 bit]
C:\Program Files (x86)\SecurityXploded\FreePDFPasswordRemover
Free PDF Password Remover is easy to use with its simple & attractive GUI interface.
Here are the brief usage details
Launch Free PDF Password Remover on your system after the installation.
Select the PDF file either by dropping file or clicking on Browse button
Next enter the password if password is set
Finally click on 'Remove Password' to remove the password or restrictions
On success, it will open target PDF file automatically
Screenshot 1: 'Free PDF Password Remover' removing the PDF Password
Screenshot 2: Right click context menu to quickly launch 'Free PDF Password Remover'.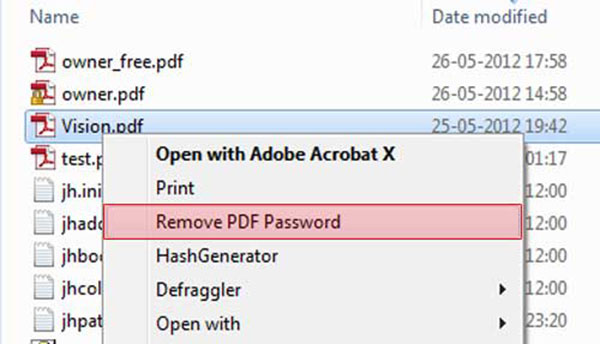 New 2023 release with enhanced PDF password remover engine. Also comes with new installer & updated OS functions
Mega 2022 edition supporting new Windows 11 platform. Also dropping support for Windows XP. Now it comes with improved PDF engine for faster PDF password removal operations.
New 2021 edition with enhanced PDF password engine with faster & better password removal operations.
Major release with new branding as Free PDF Password Remover with enhanced user interface, context menu for Windows 10, open PDF file etc
Mega 2020 release with faster PDF password removal operation and new improved GUI interface.
Mega 2017 edition featuring new Installer for local installation & un-installation
Major 2016 edition with improved Installer/Un-installer screen. Also fixed the context menu problem in Windows 10.
Mega release with support for new Windows 10 as well as latest Adobe Acrobat Reader DC version. Also fixed the sizing problem with higher resolution computers.
New feature added to Installer to dynamically download latest version
Integrated Uninstaller into Windows Add/Remove Programs, now you can uninstall it in a standard way.
Major revision with latest PDF Password remover engine.
Improved GUI interface with magnifying icon effects.
Mega edition featuring new PDF password remover engine with greater success rate and much faster than earlier version. Also fixed the Context menu integration and Adobe acrobat location finder.
Fixed the screen flicker problem during the password removal operation.
Now automatically converts short paths to long path names during drag/drop or context menu invocation. Other changes include proper message display and highlighting password box.
First public release of FreePDFPasswordRemover
Free PDF Password Remover is not a hacking or cracking tool. It can only help you to remove the Password of your own PDF file.

Read complete License & Disclaimer terms here.