IE Password Remover

Version: 2.0
| | |
| --- | --- |
| | IE Password Remover is the free tool to quickly and easily remove the stored website login passwords from Internet Explorer. |
It automatically detects IE version on your system and use appropriate technique to successfully decrypt all the stored passwords. Once recovered, you can either remove selected ones or all of the stored passwords with just a click.
One of the unique feature of this tool is that it can recover and remove passwords (from IE v7-v9) for popular websites without depending on the history using the Smart URL Recovery technique. Also it can recover both HTTP Basic Authentication (router/modem) as well as Autcomplete passwords.
It supports all versions of IE from v7.x to v10.0 (except on Windows 8). It is fully portable and works on both 32bit & 64bit platforms starting from Windows XP to Windows 10.
Instantly decrypt and recover stored web login passwords from

Internet Explorer

Support all versions of IE starting from v7.x to v10.0 (except Windows 8)
Recover both HTTP Basic Authentication & AutoComplete Passwords
Remove either selected ones or all the stored passwords with just a click
Create backup password report in HTML/XML/TEXT/CSV format
Right click context menu to quickly copy the password
Free and Easy to Use GUI based Tool
Fully portable, can be run anywhere without JAVA, .NET components
Includes Installer for local Installation & Uninstallation
IE Password Remover comes with Installer to make it easier to install it locally on your system for regular usage. This installer has intuitive wizard which guides you through series of steps in completion of installation.
At any point of time, you can uninstall the product using the Uninstaller located at following location (by default)
[Windows 32 bit]
C:\Program Files\SecurityXploded\IEPasswordRemover

[Windows 64 bit]
C:\Program Files (x86)\SecurityXploded\IEPasswordRemover
IE Password Remover is easy to use tool with cool GUI interface Here are the brief usage details
Launch 'IE Password Remover' on your system after Installation
Next click on 'Show Passwords' to recover all the stored passwords from IE as shown in the screenshot 1 below
Now you can select any of the website/password from this list and click on 'Remove' button to delete it
To delete all the passwords click on 'Remove All' button
Also before proceeding with removal you can backup the password list by clicking on 'Report' button and then select the type of file from the drop down box of 'Save File Dialog'
Screenshot 1: IE Password Remover showing the recovered passwords from IE login password store.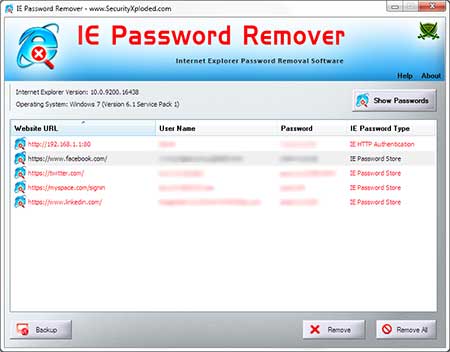 Screenshot 2: IE password list after deletion of Facebook password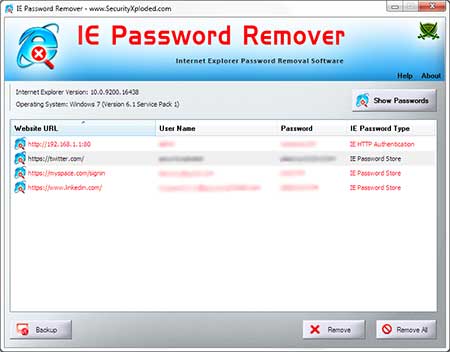 Screenshot 3: Backup Password List in HTML format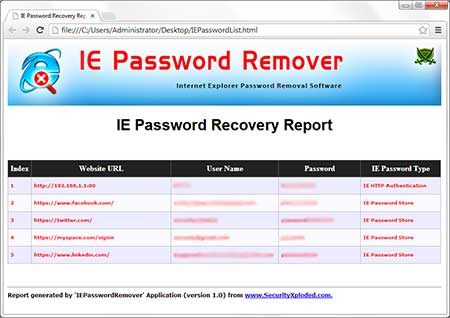 Currently it works on IE version from v7.x to v10.0. However it does not support password removal from Internet Explorer v10.0 or higher on Winodws 8.

Mega release with a support to generate password recovery report in CSV (Comma-Seperated Values) File Format. Added right click context menu to quickly copy the password.
First public release of IE Password Remover
IE Password Remover is designed to help users to protect their privacy and online security by recovering & removing the password from IE.
But like any other tool its use either good or bad, depends upon the user who uses it. However neither the author nor securityXploded will not be responsible for any type of loss or damage caused due to usage of this tool.
For more details, read our License & Disclaimer Policy.