Opera Password Remover

Version: 3.0
| | |
| --- | --- |
| | Opera Password Remover is the free tool to quickly remove the stored website login passwords from all versions of 'Opera Next' web browser. |
Like most browsers, Opera also stores website login passwords in the local database file called 'Login Data'. This file and all the stored passwords within it can be accessed by any one logged into the system.This is very risky especially on shared computers as well as on public systems such as in internet cafe.

Opera Password Remover helps you to easily remove any such stored passwords. You can either remove selected ones or all of the stored passwords with just a click of button.

Opera Password Remover supports all versions of Opera Next browser. It is fully portable and works on both 32-bit & 64-bit platforms starting from Windows XP to Windows 10 version.
Instantly decrypt and recover stored web login passwords from latest version of Opera browser
Remove either selected ones or all the stored passwords with just a click
Create backup password report in HTML/XML/TEXT/CSV format
Automatically detects the current Opera password file location
Remove all stored Opera Passwords with just a click of button
Drag & Drop support for select profile path
Right click context menu to quickly copy the password
Free and Easy to Use GUI based Tool
Fully portable, can be run anywhere without JAVA, .NET components
Opera Password Remover comes with Installer to make it easier to install it locally on your system for regular usage. This installer has intuitive wizard which guides you through series of steps in completion of installation.
At any point of time, you can uninstall the product using the Uninstaller located at following location (by default)
[Windows 32 bit]
C:\Program Files\SecurityXploded\OperaPasswordRemover

[Windows 64 bit]
C:\Program Files (x86)\SecurityXploded\OperaPasswordRemover
Opera Password Remover is easy to use tool with cool GUI interface.
Here are the brief usage details
Launch 'Opera Password Remover' on your system after Installation
It auto detects current Opera Next profile path. You can also drag & drop the different profile folder
If the profile belongs to different user or another system then passwords will not be displayed
Next click on 'Show Passwords' to recover all the stored passwords as shown in the screenshot 1 below
Now you can select any of the website/password from this list and click on 'Remove' button to delete it
To delete all the passwords click on 'Remove All' button
Also before proceeding with removal you can backup the password list by clicking on 'Report' button and then select the type of file from the drop down box of 'Save File Dialog'
Screenshot 1: Opera Password Remover showing the recovered passwords from 'Opera Next' browser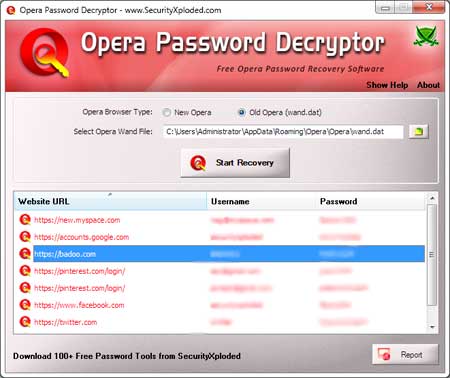 Screenshot 2: Opera password list after deletion of Facebook password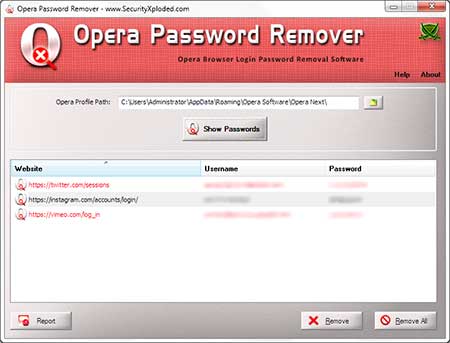 Screenshot 3: Backup of Opera Password List in HTML format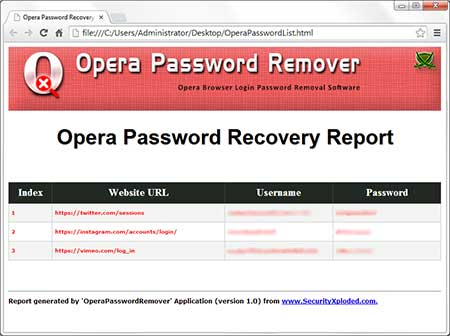 Mega 2016 edition with the support for new Windows 10 version. Also added support for recovering & removing passwords from latest Opera edition.
Right click context menu to quickly copy the website password. Also integrated Uninstaller into Windows Add/Remove Programs.
First public release of Opera Password Remover
Opera Password Remover is designed to help users to protect their privacy and online security by recovering & removing the password from Opera login database. But like any other tool its use either good or bad, depends upon the user who uses it. However neither the author nor securityXploded will not be responsible for any type of loss or damage caused due to usage of this tool.
For more details, read our License & Disclaimer Policy.