| | |
| --- | --- |
| | Pale Moon Password Decryptor is the free tool to instantly recover all the website login passwords stored by Pale Moon browser. |
Like other browsers, Pale Moon also stores the login details such as username, password for every website visited by the user at the user consent. All these secret details are stored in Pale Moon sign-on database securely in an encrypted format.
PaleMoon Password Decryptor can instantly decrypt and recover these secrets even if they are protected with master password.
Unique feature of this tool is that it can also be used to recover passwords from different profile (for other users on the same system) as well as from the different Operating system (such as Linux, Mac etc). This greatly helps Forensic Investigators who can copy the Pale Moon profile data from the target system to different machine and recover the passwords offline without affecting the target environment.

Note: PaleMoon Password Decryptor is not hacking or cracking tool as it can only help you to recover your own lost website passwords that are previously stored in Pale Moon browser.
PaleMoon Password Decryptor works on wider range of platforms starting from Windows XP to Windows 8.
Instantly decrypt and recover stored passwords from 'Pale Moon Password Store' for all versions of Pale Moon.


Supports recovery of passwords from local system as well as remote system. User can specify Pale Moon profile location from the remote system to recover the passwords.


It can recover passwords from Pale Moon even when it is protected with master password. In such case user have to enter the correct master password to successfully decrypt the passwords.


Automatically discovers Pale Moon profile location based on installed version of Pale Moon.


Sort feature to arrange the displayed password list by username, password or website which makes it easy to search through 100's of entries.


Save the recovered Pale Moon password list to HTML/XML/Text/CSV file


Easier and faster to use with its enhanced user friendly interface.


It comes with Installer to help in local Installation & Uninstallation.


PaleMoon Password Decryptor comes with Installer to make it easier to install it locally on your system for regular usage. This installer has intuitive wizard which guides you through series of steps in completion of installation.
At any point of time, you can uninstall the product using the Uninstaller located at following location (by default)
[Windows 32 bit]
C:\Program Files\SecurityXploded\PaleMoonPasswordDecryptor

[Windows 64 bit]
C:\Program Files (x86)\SecurityXploded\PaleMoonPasswordDecryptor
PaleMoon Password Decryptor is easy to use tool with cool GUI interface.

Here are the brief usage details.

Launch PaleMoon Password Decryptor on your system after Installation.


It will auto detect the Pale Moon profile and install location. Otherwise you can enter the these locations manually.


Next specify the master password if you have set one.


Finally click on 'Start Recovery' button and it will instantly recover all stored passwords from Pale Moon password store.


Now you can generate report in

HTML/XML/Text/CSV

format by clicking on 'Export' button and then select the type of file from the drop down box of 'Save File Dialog'.
Important Note: This tool works only with 32-bit version of Pale Moon. To recover passwords from 64-bit version, install 32 bit version of Pale Moon and set that Install Path manually in this tool.
Screenshot 1: PaleMoon Password Decryptor showing the recovered passwords from Pale Moon Password store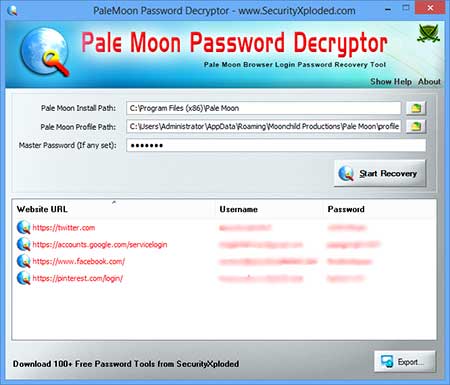 Screenshot 2: HTML report generated by PaleMoon Password Decryptor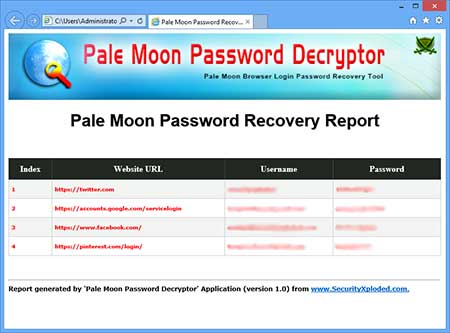 PaleMoon Password Decryptor is successfully tested with Pale Moon version 1.0 to latest version 25.3.2 and should work with any Pale Moon greater than version 1.0

If you encounter any problem, then please drop a mail to us mentioning your Pale Moon version and any other details which will help in fixing the problem.

Mega release with a support to recover website login passwords from Palemoon's new password file 'logins.json'. Added right click copy menu and integrated uninstaller into Windows Add/Remove Programs.
First public release of PaleMoon Password Decryptor