Postbox Password Decryptor

Version: 1.0
| | |
| --- | --- |
| | Postbox Password Decryptor is the FREE software to instantly recover your lost or forgotten mail passwords from Postbox - one of the popular email client. |
Postbox is a free email client which stores the mail account passwords on the local database for subsequent logins so that user don't have to type the password everytime.
Postbox Password Decryptor helps in instantly recovering all such stored mail passwords. You can also use it to recover the Postbox account passwords from other system as well.
Postbox Password Decryptor works on wide platforms starting from Windows XP to Windows 10.
Instantly recover all the mail passwords from Postbox account database
Supports recovery of passwords from local system as well as remote system.
User can also recover from custom Postbox profile location
It can recover passwords from 'Postbox Password Store' even when it is protected with Master Password. In such case user have to supply the correct master password
Automatically discovers Postbox default profile location
User can save the recovered Postbox mail account password list to HTML/XML/CSV file
Easy and faster to use with its enhanced user friendly interface.
It comes with Installerfor assisting you in local Installation & Un-installation.
Postbox stores all the email account details of the user at below profile location
[Windows XP]
C:\Documents and Settings\<user_name>\Application Data\PostboxApp\Profiles\<random_name>.default

[Windows Vista & Windows 7/8/10]
C:\Users\<user_name>\AppData\Roaming\PostboxApp\Profiles\<random_name>.default


Postbox Password Decryptor comes with Installer so that you can install it locally on your system for regular usage. This installer has intuitive wizard which guides you through series of steps in completion of installation.
At any point of time, you can uninstall the product using the Uninstaller located at following location (by default)
[Windows 32 bit]
C:\Program Files\SecurityXploded\PostboxPasswordDecryptor

[Windows 64 bit]
C:\Program Files (x86)\SecurityXploded\PostboxPasswordDecryptor
Postbox Password Decryptor is the simple to use with its interactive GUI interace.

Here are the brief usage details.
On launch, Postbox Password Decryptor automatically populates the Postbox's default profile location.
If you have set the master password for your Postbox, then you need to enter the same in the 'master password box'.
Once the profile location is specified, you can click on 'Start Recovery' button and Postbox Password Decryptor will instantly recover all passwords from 'Postbox Password Store'.
Finally you can save all recovered mail account password list to HTML/XML/CSV file by clicking on 'Export' button and then select the type of file from the drop down box of 'Save File Dialog'.
You can also use Postbox Password Decryptor to recover passwords from different system either Windows or Linux. In such case you can copy Postbox profile data from remote system to local machine and then specify that path in the profile location field for recovering such passwords.
Screenshot 1: Showing the recovered Postbox passwords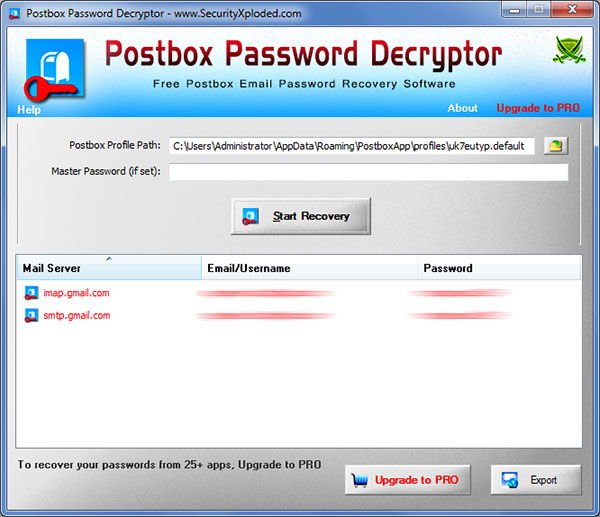 Screenshot 2: Recovered Firefox password list stored in HTML format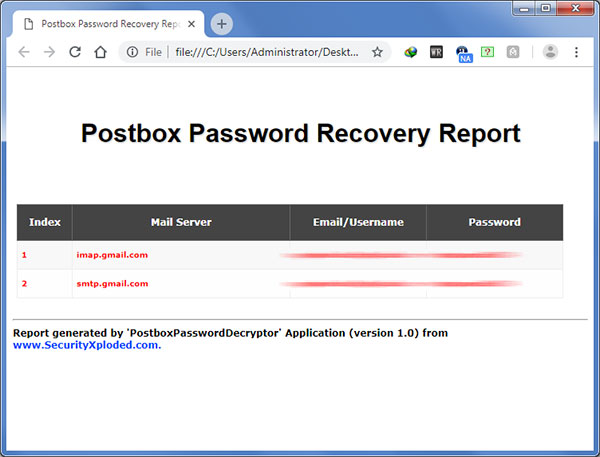 First public release of Postbox Password Decryptor.