Thunderbird Password Decryptor

Version: 8.0
| | |
| --- | --- |
| | Thunderbird Password Decryptor is the FREE software to instantly recover the stored Mail account password by Thunderbird. |
Thunderbird is a free, open-source, cross-platform application for managing email and news feeds. Like other Email applications, it also stores the mail account passwords on the local system for subsequent logins so that user don't have to type the password everytime.
It helps in instantly recovering all such stored Mail passwords. You can also use it to recover the Thunderbird account passwords from other system
'Thunderbird Pass Decryptor' comes with Installer to help in local Installation & Un-installation of software. It works on wide platforms starting from Windows XP to Windows 10.
Instantly recover the stored encrypted mail account passwords from 'Thunderbird Password Store'
Supports recovery of passwords from local system as well as remote system. User can specify Thunderbird profile location from the remote system to recover the passwords.
It can recover passwords from 'Thunderbird Password Store' even when it is protected with Master Password. In such case user have to enter the correct master password to successfully decrypt the mail account passwords.
Automatically discovers Thunderbird default profile location based on the version of Thunderbird.
Fully portable, can be run from anywhere directly.
On successful recovery operation, username, password along with a corresponding login website is displayed.
Sort feature to arrange the displayed password list by username, password or mail server which makes it easy to search through hundreds of entries.
User can save the recovered Thunderbird mail account password list to HTML/XML/CSV file
It comes with Installer for assisting you in local Installation & Un-installation.
Thunderbird uses same mechanism as Firefox (as explained in
FirePasswordViewer
) to store its email account passwords securely. The passwords are stored in the file called 'signons.sqlite' at its profile location.
Default profile location for different platforms is as follows,
[Windows XP]
C:\Documents and Settings\<user_name>\Application Data\Thunderbird\Profiles\<random_name>.default

[Windows Vista & Windows 7/8/10]
C:\Users\<user_name>\AppData\Roaming\Thunderbird\Profiles\<random_name>.default
The password file is stored in SQLite database format as in the case of Firefox. It contains many tables pertaining to various account configuration of Thunderbird, but the account password details are stored in 'moz_logins' table as shown in the screenshot below (using the SQLite Database Browser Tool)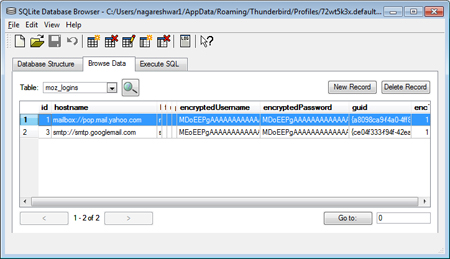 Here are more details about important fields of 'moz_logins' table
table - moz_logins

id - index of each entry
hostname - Mail Server URL
encryptedUsername - encrypted username
encryptedPassword - encrypted password
guid - unique GUID for each entry
encType - value 1 indicates encrypted
Now once the encrypted username and password values are extracted from above database file, ThunderbirdPassDecryptor decrypts them instantly using base64 decoding followed by 3DES algorithm.
Information required to decrypt these contents are stored in key3.db file including the master password details. If the master password is set, then you must provide the master password for successful decryption.
If you have forgotten the master password, then you can use
Firemaster
tool to recover the master password.
ThunderbirdPassDecryptor comes with Installer so that you can install it locally on your system for regular usage. This installer has intuitive wizard which guides you through series of steps in completion of installation.
At any point of time, you can uninstall the product using the Uninstaller located at following location (by default)
[Windows 32 bit]
C:\Program Files\SecurityXploded\ThunderbirdPassDecryptor

[Windows 64 bit]
C:\Program Files (x86)\SecurityXploded\ThunderbirdPassDecryptor
ThunderbirdPassDecryptor is the simple to use with its interactive GUI interace.

Here are the brief usage details.
On launch, ThunderbirdPassDecryptor automatically populates the Thunderbird's default profile location.
If you have set the master password for your Thunderbird, then you need to enter the same in the 'master password box'.
Once the profile location is specified, you can click on 'Start Recovery' button and ThunderbirdPassDecryptor will instantly recover all passwords from 'Thunderbird Password Store'.
Finally you can save all recovered mail account password list to HTML/XML/CSV file by clicking on 'Export' button and then select the type of file from the drop down box of 'Save File Dialog'.
You can also use ThunderbirdPassDecryptor to recover passwords from different system either Windows or Linux. In such case you can copy Thunderbird profile data from remote system to local machine and then specify that path in the profile location field for recovering such passwords.
Screenshot 1: Showing the recovered Thunderbird passwords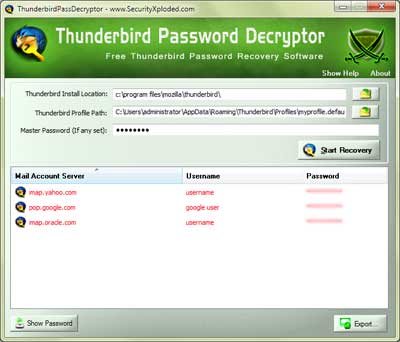 Screenshot 2: Recovered Firefox password list stored in HTML format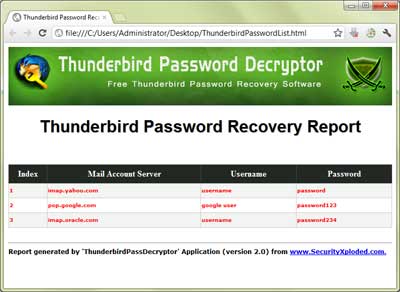 Mega 2019 edition with improved Thunderbird profile path detection. Also improved user interface.
Mega release with support for recovering mail passwords from latest Thunderbird version
Major 2017 edition to support Thunderbird Password Recovery on Windows 10.
New feature added to Installer to dynamically download latest version
Mega release with a support to recover Email Logins from future Thunderbird password file 'logins.json'. Also integrated Uninstaller into Windows Add/Remove Programs.
Now uses local BASE64 function without dependending on PLC library. Also removed the support for old method of password recovery from signons.txt file.
New feature to generate password recovery report in CSV (Comma-Seperated Values) File Format.
Added quick download link, fix for refresh screen and removed 'show password' to make it clear.
Support for Drag & Drop of install & profile location. Tested successfully with latest version of Thunderbird v17.0
Support for report generation in XML format, Enhanced UI with cool banner.
Added links for PasswordForensics.com in about section and few bug fixes
Fixed the crash issue with non-english version of Windows on x64 bit platforms.
Support for Setup Wizard for local Installation & Uninstallation of the software.
Support for portable version of Thunderbird by allowing user to manually specify install location of Thunderbird. Thanks to Joby_Toss for reporting and verifying the issue.
First public release of ThunderbirdPassDecryptor.