Windows Drive Hider

Version: 4.0
| | |
| --- | --- |
| | Windows Drive Hider is the free software to quickly Hide and Protect your Drives from other users on Windows. |
Windows has built-in feature which allows you to Hide selected Drives from showing up in 'My Computer', File Explorer or File Open/Save Dialog boxes. This way you can hide your protected files from other users on the system as they don't see the hidden drives. However you will be able to access the contents of hidden drive through command prompt or by typing the path directly in the Explorer.
This way it is an ideal solution for administrators and parents to safeguard sensitive files from their children.
Our Drive Hider tool makes it easy for you to quickly hide/unhide any Drive with just a click. You can also choose to hide it from current user only or from all users on the system.
Windows Drive Hider displays detailed information for each Drive such as
Drive Path
Volume Name
Type (Local, Network, CD, USB etc)
File System (FAT32, NTFS etc)
Hidden Status
It is very easy to use with its simple & beautiful GUI interface. It is fully portable and includes Installer also for easy installation & un-installation.
Windows Drive Hider works on both 32-bit & 64-bit platforms starting from Windwos XP to new Windows 10 edition.
Quick way to Hide/Unhide Drives on Windows
Hide from Current User only or from All users
Displays list of all Drives with complete details
Simple & beautiful GUI interface makes it easy to use.
Fully Portable, can be run from anywhere
Includes Installer also for local Installation & Uninstallation.
Supports all Windows platforms from Windows XP to Windows 8


Windows Drive Hider comes with Installer to make it easier to install it locally on your system for regular usage. This installer has intuitive wizard which guides you through series of steps in completion of installation.
At any point of time, you can uninstall the product using the Uninstaller located at following location (by default)
[Windows 32 bit]
C:\Program Files\SecurityXploded\WindowsDriveHider

[Windows 64 bit]
C:\Program Files (x86)\SecurityXploded\WindowsDriveHider
Windows Drive Hider is easy to use with its simple GUI interface.
Here are the brief usage details
Launch Windows Drive Hider on your system
It will show you all Drives with details as shown in Screenshot below
Now select any Drive and click on button to Hide/Unhide it.
By default changes will be applied to Current User only.
To apply to all Users, select Check box 'Make Changes to All users..." and make sure you have Administrator Permissions.
Once you hide/unhide the drive, you have to Log Off or Restart for changes to take effect.
On Logon, you can open 'My Computer' and see that Hidden Drives are gone :)
Screenshot 1: Windows Drive Hider showing all the Drives including Hidden Drives shown in Red color.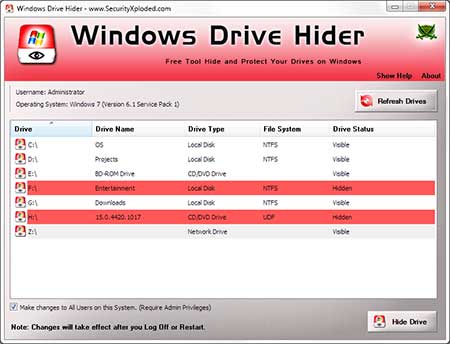 Screenshot 2: 'My Computer' screen before Hiding Drives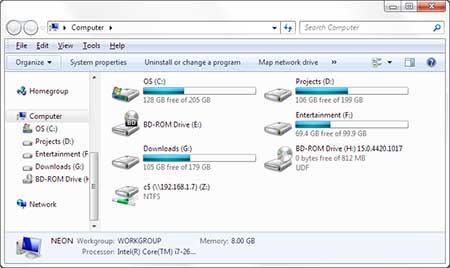 Screenshot 3: 'My Computer' screen after Hiding Drives F:\ and H:\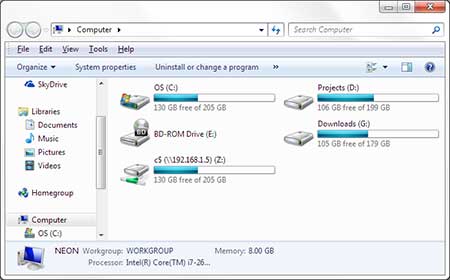 Mega 2019 edition to support hiding drives on latest windows update.
New 2016 edition with support for new Windows 10 version. Added new feature to Installer to dynamically download latest version..
Integrated Uninstaller into Windows Add/Remove Programs, now you can uninstall it in a standard way.
Improved GUI interface with magnifying icon effects and simplified about dialog
First public release of WindowsDriveHider