Advanced Windows Service Manager

Version: 6.0
| | |
| --- | --- |
| | Advanced Windows Service Manager is the specialized software for smarter analysis of Windows Services. It offers many powerful and unique features which sets it apart from built-in Service Management Console as well as other similar softwares. |
Some of the unique features include Detection of Malicious/Rootkit Services, Automatic Threat Analysis, Service Filter mechanism, Integrated Online Virus/Malware Scan, Color based Threat Representation, HTML/XML based Service Report etc.
Services normally run with 'Local System' privilege thus enabling them to execute higher privilege operations which otherwise cannot be performed by normal processes. Due to these advantages, often malwares run as Services to monitor and control the target system.
'Advanced Windows Service Manager' can help you to detect those Malicious services easily from hundreds of running services. You can then use integrated 'Online Scan' to further verify it through one of online services such as VirusTotal, ProcessLibrary, Google etc.
Itis fully Portable version and comes with Installer also to help in local installation/un-installation.It works on all Windows system starting from Windows XP to new Windows 10 version.
Here are the special features of 'Advanced Win Service Manager'
Smarter Detection of Hidden Malicious/Rootkit Services: Uses heuristic analysis along with other anti-rootkit techniques such as Bypass Hook method.
Sophisticated Auto Analysis: Scanned services are automatically analyzed and classified based on various threat levels.
Online Malicious Service Scan: Supports integrated 'Online Scan' service using VirusTotal, ProcessLibrary and Google to verify malicious nature of services.
Service Filter Mechanism: Includes built-in Filters to display only Running, Third Party or core System services etc.
Color based Threat Representation: Displays services as Dangerous, Suspicious, Normal using Color schemes making it easier for further analysis.
Sort Feature: Quickly arrange the services based on service name, threat level, status, company name.
Right Click Context Menu: For quick actions such as Start/Stop service, Online Scan, View properties etc.
Advanced Report: Detailed report generation in HTML/XML format.
Integrated Installer:Helps you in quick installation & un-installation
Though AdvancedWinServiceManager is a Portable tool, it comes with Installer so that you can install it locally on your system for regular usage. This installer has intuitive wizard (as shown in the screenshot below) which guides you through series of steps in completion of installation.
At any point of time, you can uninstall the product using the Uninstaller located at following location (by default)
[Windows 32 bit]
C:\Program Files\SecurityXploded\AdvancedWinServiceManager

[Windows 64 bit]
C:\Program Files (x86)\SecurityXploded\AdvancedWinServiceManager
It is easy to use tool with its rich user friendly interface.
Here are quick usage tips,
Launch AdvancedWinServiceManager after installation or from portable version folder.
Next select the type of services from the Selection box and click on Refresh button.
Relevant services matching the filter will be displayed as shown below.
Services will be represented as Dangerous, Suspicious, Analysis or Normal with different colors.
You can then Right Click on the service and choose to Start/Stop Service, Enable/Disable Service, perform Online Scan, view properties etc.
Finally you can export the displayed service list to HTML/XML file. Click on the 'Export' button and then select the type of file from the drop down box of 'Save File Dialog'.
Note that you have to run AdvancedWinServiceManager as Administrator to perform several actions which require higher privileges.
Screenshot 1: AdvancedWinServiceManager displaying windows services classified based on threat analysis. New version allows you to quickly perform actions using right click menu as shown in the screen.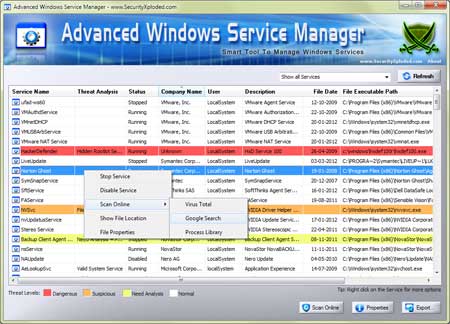 Screenshot 2: Windows Service Scan report in HTML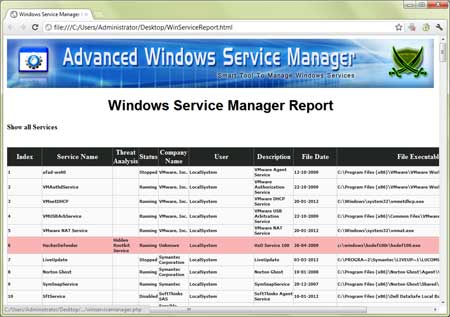 Major release with new installer for simple installation & un-installation.
New 2016 edition with improved windows service managing operation
Mega release with support for managing services on new Windows 10 version.
New feature added to Installer to dynamically download latest version
Improved Installer screen along with few minor bug fixes.
Renovated GUI interface with glowing icon effects. Also integrated Uninstaller into Windows Add/Remove Programs, now you can uninstall it in a standard way.
Now by default it shows third party services at the start. Also launches in maximized mode.
Minor improvements in the user interface. Fixed the broken link to web page in the report.
This mega version presents new enriched GUI interface with cool banner, Online Malicious Service Scan, Sophisticated Auto Analysis, Service Filter Mechanism, Color based Threat Representation, Right Click Context Menu for quick actions, HTML/XML Report generation and many more.
Release of AdvancedWinServiceManager with rich features such as hidden Rootkit service detection, enhanced user interface, arranging the services, exporting the service list to log file etc.
User interface improvement, Vista UAC compatibility along with bug fixes.
First public release of WinServiceManager