Yahoo Password Dump
| | |
| --- | --- |
| | Yahoo Password Dump is the Free command-line tool to instantly recover your lost Yahoo Login password from popular web browsers and messengers. |
Currently it can recover your Yahoo! password from following applications,
Firefox
Google Chrome
Microsoft Edge
Internet Explorer
UC Browser
Torch Browser
Chrome Canary/SXS
CoolNovo Browser
Opera Browser
Apple Safari
Flock Browser
SeaMonkey Browser
Comodo Dragon Browser
Paltalk Messenger
Miranda Messenger
Yahoo Messenger (v7.x - v13.x)
It automatically discovers installed applications on your system and recovers all the stored Yahoo login passwords within seconds.By default it dumps all the recovered passwords to console. Now with version v2.0 onwards, you can also save the passwords to TEXT file.
Being command-line tool makes it ideal tool for penetration testers and forensic investigators.
Yahoo Password Dump works on both 32-bit & 64-bit platforms starting from Windows XP to new Windows 10 version.
Yahoo Password Dump is very easy to use tool. It is command-line/console based tool, hence you have to launch it from the command prompt (cmd.exe).

Here is the simple usage information
YahooPasswordDump.exe [-h | -f <output_file_name>]
Examples of Yahoo Password Dump
YahooPasswordDump.exe
YahooPasswordDump.exe -f "c:\passlist.txt"
YahooPasswordDump.exe -h
Here are step by step instructions,
Launch command-prompt (cmd.exe) on your system.
In the cmd prompt move to directory where you have installed or copied YahooPasswordDump tool
Now run the tool by just typing YahooPasswordDump.exe
It will automatically discover and display all the recovered passwords as shown in screenshot below.
For Yahoo Messenger, encrypted Password hash will be displayed. You can copy it to following registry location of another system to login automatically.

Windows Registry Editor Version 5.00
[HKEY_CURRENT_USER\Software\Yahoo\pager]
"Yahoo! User ID"="[put user name here]"
"ETS"="[put encrypted password hash here]"

Screenshot 1: 'YahooPasswordDump' showing recovered Yahoo Login passwords from all browsers & messengers.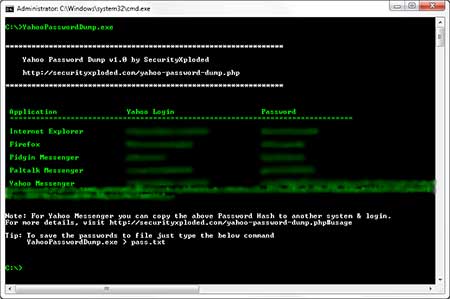 Major 2018 edition supporting Yahoo Password recovery from latest Firefox (both 32-bit & 64-bit versions).
Fixed false positive issues with Antivirus engines.
Mega 2016 edition with the support for new Windows 10 version. Also added feature for recovering Yahoo login passwords from browsers like Microsoft Edge, UC, Torch, Opera etc
New feature added to Installer to dynamically download latest version
Mega release with a support to recover Yahoo password from new Firefox login file 'logins.json' starting with version 32.x
Removed false positive with various Antivirus solutions. Also integrated Uninstaller into Add/Remove Programs.
New feature to save the recovered Yahoo password list to TEXT file. Also fixed the bug in Yahoo password recovery from Internet Explorer
First public release of Yahoo Password Dump.