Easily Convert Mac OLM to Windows PST With Stellar Converter for OLM
Using an OLM to PST converter can make switching from Outlook for Mac to Outlook for Windows a cakewalk. Stellar converter for OLM offers multiple tools to convert OLM files to PST without changing their original folder hierarchy. This professional converter from Stellar is safe and secure and can be used to convert files in a few other formats as well.

Stellar Converter for OLM is conceptualized by Stellar Information Technology to provide users with an impeccable software solution that can convert OLM to PST with ease and in real time. The software can convert Outlook data items, such as emails, messages, journals, notes, and a lot more from Outlook for Mac mailbox to Windows Outlook compatible PST.

Convenience and ease are indispensible aspects that users look for when they invest in a converter software. This is the main reason a large number of users choose to download and install Microsoft Outlook, regardless of the email client they are using. There are two versions of MS Outlook: one for Windows and another for Mac. But, these two versions of Outlook use different formats to store the data; Windows stores data in PST format while Mac uses OLM format to save data. Hence, anyone with Outlook for Mac cannot directly move its data to Windows Outlook without converting it to a compatible format. Therefore, any user using Outlook for Mac client needs to convert OLM files to migrate to Outlook for Windows.
Generally, Windows Outlook is compatible only with PST file format. In case, if you are importing data from Mac, all that data will be in ".olm" file format, which Windows Outlook fails to read. Therefore, for Windows Outlook to read imported Outlook for Mac data, we need to convert these OLM files to PST. For this purpose, we need OLM to PST converter to read imported files from Mac.
The Stellar Converter for OLM software is safe to use on your system. For assurance, you can check it with the Anti-malware software. It is a reliable software to convert OLM file into PST file. It is one of the most used OLM software available to users. It is easy to install and use. You'll not get any conflicts with the software. Overall, Stellar Converter for OLM is safe to use on your device.
Converts OLM to PST file with original properties:

The main objective of the software tool is to convert the Outlook files (contacts, emails, notes, journals, tasks, calendars, etc.) from Mac into a PST file that is compatible to Windows Outlook. Here, the software maintains the folder hierarchy while converting OLM files to PST.

Browse and lists all OLM files in your system: There is a 'Browse' option with the software that enables you to find a specific OLM file from your system. This feature of the software is very useful if you do not know the exact location of a particular file. Once the file is found, it shows these 'browsed' file in a list, from there you can select/choose any file and convert it into PST format.

Smart saving options for converted files: Once you convert OLM file to PST, using Stellar converter for OLM, it saves the converted files in PST format. It does not only save files in PST format (.pst), but also in formats like MSG (for messages), EML (for emails) or convert OLM to PDF. After converting OLM files to PST, you can attach the converted files into an existing PST file or save as a new PST file.

Preview of Converted OLM Mailbox items: There is a free preview option (in a three-pane window) with the software, allowing you to check the accuracy of the converted items. The left pane shows you the file name that you selected and the mailbox item folders in a tree structure. The converted OLM file (mail) list will display in the middle pane of the interface, while individual mail content is shown in the right pane.

Live software updates: For better performance and desired results, Stellar Converter for OLM provides timely updates to the software users. The "Update Wizard" is available with OLM to PST converter software. The wizard notifies the users with any new updates when available for download. The minor updates are free to download but major updates require registration.

Save log report of the process: Log Report is a feature available with Stellar Converter for OLM. This feature allows the user to save log report on the conversion process from OLM to PST or conversion to any other format. This enables the user to analyze the information at every stage. In addition to Log report, the software captures details of issues reported during the process of conversion. To view the log report, you will need to select 'Log Report' from the view menu.

Compatibility: This Stellar converter for OLM is compatible with Windows 11, 10, 8, 8.1, and 7 Operating System. The converted emails can be successfully accessed on both 32-bit and 64-bit versions of Outlook 2019, 2016, 2013, 2010, 2007, and 2003.
Here is step-by-step guide on how to use Stellar Converter for OLM:
To use Stellar Converter for OLM, you are required to download and install the software on your Windows Computer. The installation wizard will take you through the process. The process first requires you to export the OLM files to your Windows Computer (Skip, if you already have OLM files on your computer).
Next, double-click the file, and the tool will open. Look for an option called

"Select OLM Mailbox,"

which will allow you to select the OLM file.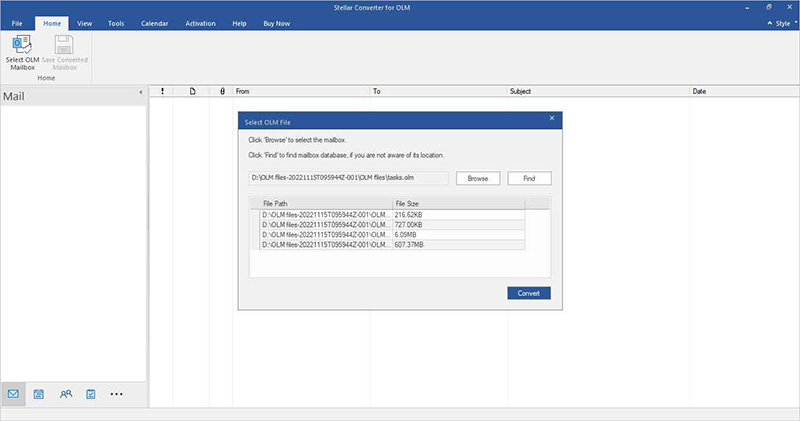 There are two ways by which you can choose the OLM file that needs to be converted to the PST format. You can browse through your file system, navigate to the folder, and select the file. But if you don't know the exact location of the file, you can always use the

"Find"

option to search using your file name.
After selecting the OLM file, the tool will start scanning the file to retrieve its contents.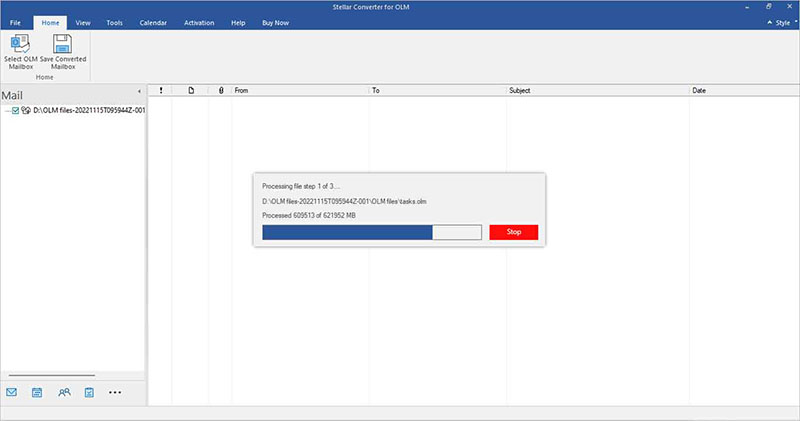 This may take a few minutes, depending on the size of your OLM file. Once the scanning process completes, you can see a preview of all the contents of your mailbox.
Since you won't need all the contents of your mailbox in your PST file, this tool gives you the choice to pick what you want in the PST file.

From the displayed content, you can click on anything to view its detailed data and accordingly decide if you want to move it to your new PST file.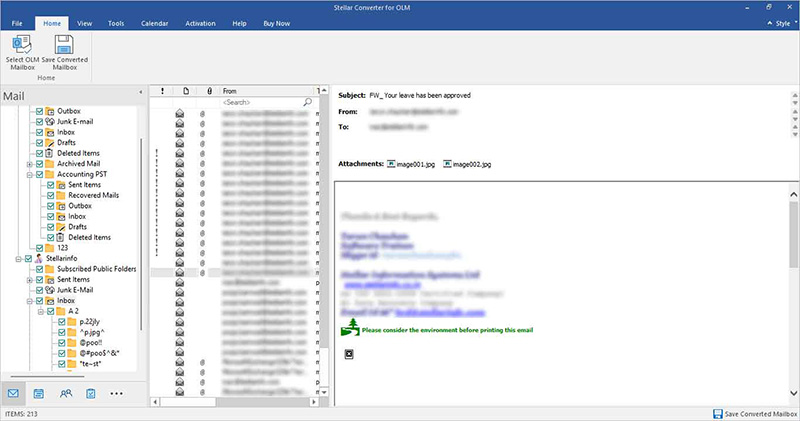 Once you've chosen the content for conversion, you can choose the final file format in which you want to save these contents. If you're using the tech version, you can also choose from EML or MSG formats.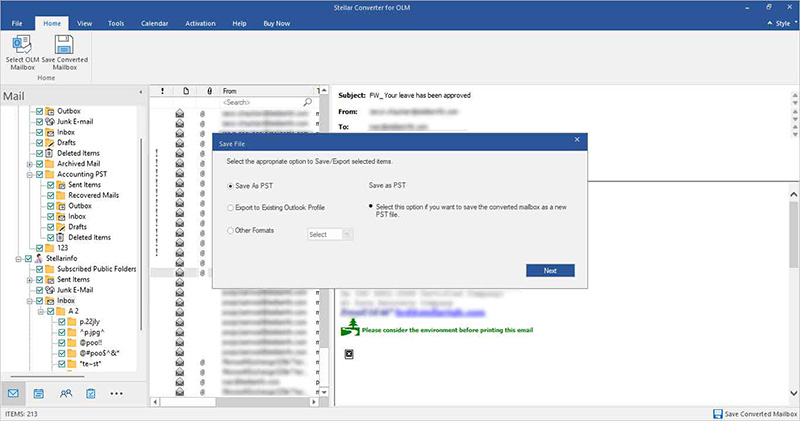 You can choose to move these contents to a new PST file or append them to the existing Outlook file.
Now, you are done. Sit back while the software does the conversion for you. It can take even a few hours, depending on the amount of data needs to be converted.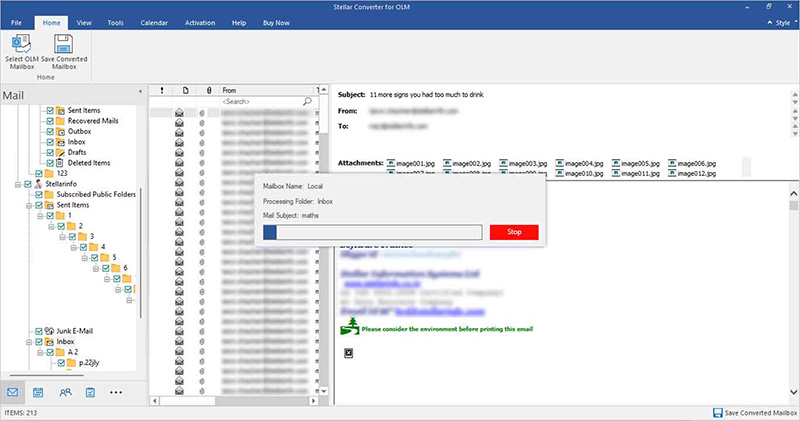 After the conversion process ends, navigate to the folder, and access the PST file.
To install and run Stellar Converter for OLM on your system, you need following configuration for smooth working:
Processor: Pentium Class
Operating System: Windows 11, 10, 8.1, 8 & 7
Memory: 2 GB minimum (4 GB recommended)
Hard Disk: 250 MB of Free Space
The price of the software is kept within the range and affordable. However, to provide users with an insight of the OLM to PST converter before purchase, a demo (free trial) version is made available to check the utility of the software. The Stellar Converter for OLM will cost users:

For Standard pack: $39

For Technician pack: $99

Both the plan comes with one-year validity. You can purchase any of the packs based on your requirement.
Here are some pros & cons of Stellar Converter for OLM
The software is user-friendly.
Effective performance.
Secure and Easy to use software.
Available with multiple save options.
Supports Outlook 2021, 2019, 2016, 2013, 2010, 2007 both 64 and 32-bit
It comes with paid subscription
Supports only English language
OLM files are basically Mac compatible file for Outlook. But, it cannot be read on Windows Outlook. Therefore, to view Outlook for Mac mail items on Windows, one needs to convert OLM files to PST format. Stellar Converter for OLM is a professional tool, especially designed to convert huge mailbox of OLM files to PST in really quick time without disturbing the integrity of the mailbox folder.

Stellar Converter for OLM offers incredible features to the users and is easy to handle with user-friendly interface. It comes in an affordable price and offers demo version of the Standard or Technician edition, which can be downloaded for free to evaluate the software yourself. This will help you understand the software and identify if the product suits your needs.
1) Can I convert multiple OLM files simultaneously?
No, the tool allows you to convert only one OLM file at a time.
2) Can I convert a single mailbox item of OLM file to PST?
Answer: No, you cannot convert a single mailbox item of OLM file to PST. However, you can convert a single mailbox item to EML or MSG file format.
3) How can I search for multiple OLM files?
You can search for multiple OLM files by using the 'Find' option present in 'Select OLM File' dialog box of the software interface. Here are the instructions:
Step 1: Launch Stellar Converter for OLM software.
Step 2: From the Select

OLM File

, click the

'Find'

button.
Step 3: From the

'Browse for Folder'

dialog box, select the drive or folder to search for OLM files.
Step 4: Click

'OK'

, and a list of OLM files found will be displayed on the screen.
4) What is the validity of the license for this software?
Validity for both, Standard and Technician version license is one year.
5)Does this software allow conversion of multiple files at once?
No, it allows only one OLM file conversion at a time.