| | |
| --- | --- |
| | Salted Hash Generator is the FREE all-in-one tool to generate salted hash for popular hash types including MD5 and SHA1 family. |
Here are the currently supported hash types,
LM
NTLM
Base64
MD5 Family (MD2, MD4, MD5)
SHA1 Family (SHA1, SHA256, SHA384, SHA512)
RIPEMD160
For each type, it generates hash for various combination of Password & Salt as follows,
Password only
Password+Salt
Salt+Password

Finally, you can save the generated hash list to HTML/XML/TEXT/CSV file.


It is fully portable and works on all platforms starting from Windows XP to Windows 8.
Generate Salted Hashes for popular algorithms including MD5, SHA256, LM, NTLM.
Create Hash for all combination of password & salt
Directly copy the selected hash from the list by right click menu option.
Save the generated hash list to HTML/TEXT/XML/CSV file
Simple, Easy to Use GUI Interface
Fully Portable Tool, can be run anywhere

It comes with simple Instaler that helps you to install it locally on your system for regular usage. It has intuitive setup wizard which guides you through series of steps in completion of installation.
At any point of time, you can uninstall the product using the Uninstaller located at following location (by default)
[Windows 32 bit]
C:\Program Files\SecurityXploded\SaltedHashGenerator

[Windows 64 bit]
C:\Program Files (x86)\SecurityXploded\SaltedHashGenerator
Salted Hash Generator is very easy to use software.

Here are simple steps
Launch SaltedHashGenerator on your system.
Enter the password and salt text
Next Cilck on 'Generate Hash' button.
You will see all the hash types being generated for various combination of password & salt as shown in the screenshot below.
Finally you can export entire hash list to

HTML/XML/Text/CSV

file by clicking on 'Export' button and then select the type of file from the drop down box of 'Save File Dialog'..

Screenshot 1:SaltedHashGenerator is generating hashes for various password & salt combinations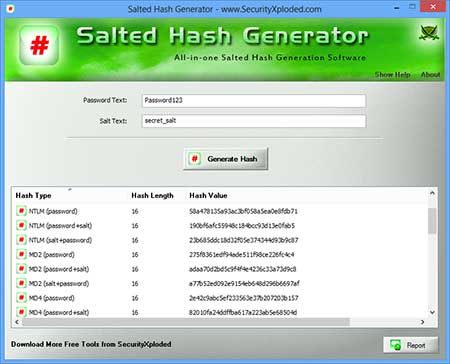 Screenshot 2: HTML report of generated hash list.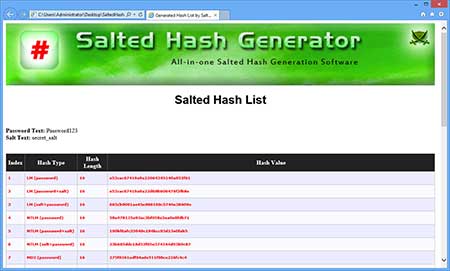 New feature to create Salted Hash List in CSV (Comma-Seperated Values) File Format. Improved GUI interface with glowing icon effects.
Added support for popular Base64 algorithm
First public release of Salted Hash Generator