Sleipnir Password Decryptor

Version: 3.0
| | |
| --- | --- |
| | Sleipnir Password Decryptor is the FREE tool to instantly recover all the stored website passwords from Sleipnir browser. |
Sleipnir is the luxury advanced web browser based on Chrome engine featuring cloud service for syncing bookmarks/history/session details across devices. Like most of the browsers, it also has Password Manager which stores username/passwords for websites visited by user.
Sleipnir Password Decryptor helps you to easily recover these website passwords from Sleipnir password store. On start, it automatically detects default profile path of Sleipnir browser. You can also specify different profile path in case it is not present in default location.
Sleipnir Password Decryptor works on both 32-bit & 64-bit platforms from Windows XP to Windows 10
Sleipnir browser stores all the website login passwords in an encrypted file 'Login Data' at following location
[Windows XP]
C:\Documents and Settings\<user_name>\Application Data\Fenrir Inc\Sleipnir5\setting\modules\ChromiumViewer\Default\

[Windows Vista/Windows 7/Windows 8]
C:\Users\<user_name>\AppData\Roaming\Fenrir Inc\Sleipnir5\setting\modules\ChromiumViewer\Default\
Sleipnir Browser uses Chrome Engine to store website passwords. So the password storage and encryption mechanism are similar to Chrome browser.
It comes with simple Instaler that helps you to install it locally on your system for regular usage. It has intuitive setup wizard which guides you through series of steps in completion of installation.
At any point of time, you can uninstall the product using the Uninstaller located at following location (by default)
[Windows 32 bit]
C:\Program Files\SecurityXploded\SleipnirPasswordDecryptor

[Windows 64 bit]
C:\Program Files (x86)\SecurityXploded\SleipnirPasswordDecryptor
Sleipnir Password Decryptor is easy to use with its simple GUI interface.

Here are the brief usage details
Launch 'Sleipnir Password Decryptor' on your system
By default it will automatically display the default Sleipnir profile path for current user. However you can change the path using the 'browse' button or simply drag & drop the folder onto it.
Next click on 'Start Recovery' button and all stored website login passwords stored by Sleipnir will be displayed in the list as shown in screenshot 1 below.
Finally you can save all recovered password list to HTML/XML/Text file by clicking on 'report' button and then select the type of file from the drop down box of 'Save File Dialog'.
Screenshot 1: Sleipnir Password Decryptor showing decrypted passwords from the Sleipnir password store.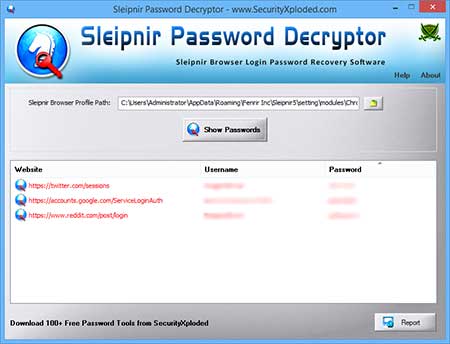 Screenshot 2: Sleipnir password recovery report in HTML format.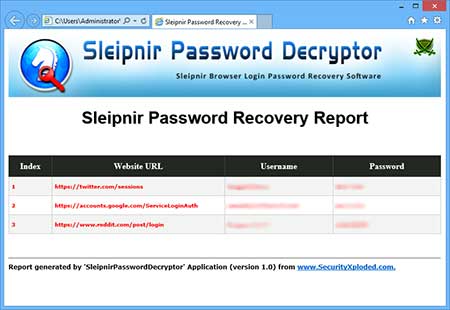 Mega 2020 release to support password recovery from new Sleipnir browser supporting new master key based encryption. Supports recovery of passwords from both old and new Sleipnir profile location.
Major 2017 edition supporting Sleipnir password recovery on Windows 10 version. Also added new installer for simple installation
Now it can generate Sleipnir password recovery report in CSV (Comma-Seperated Values) File Format.
First public release of Sleipnir Password Decryptor.