Rar Password Unlocker
Appnimi Rar Password Unlocker is the FREE software to recover the password of protected RAR files.
It supports both brute force as well as dictionary based password recovery technique that can help you to recover not only easy but also complex passwords. Once password is uncovered it automatically extracts the RAR file contents to target location.
It can be used by anyone who has forgotten the password of their RAR files. Also it can be great tool for forensic engineers in recovering password of secret RAR files.

It presents simple and cool interface making it easy for every one.
It works on wide range of operating systems starting from Windows 98 to latest, Windows 7.
Here are the highlights of the features
Easy to use with its elegant GUI interface.
Recover password of any length & complexity.

Brute-Force

method to recover password with prefix & suffix characters.
Support for dictionary based password recovery method.
Customize various parameters for effective password recovery.
Support Windows 98, ME, NT, 2000, XP, 2003, Vista & Windows 7

RarPasswordUnlocker is easy to use with its simple GUI interface even for beginners.

Here are the brief usage details,
Here is the screenshot of RarPasswordUnlocker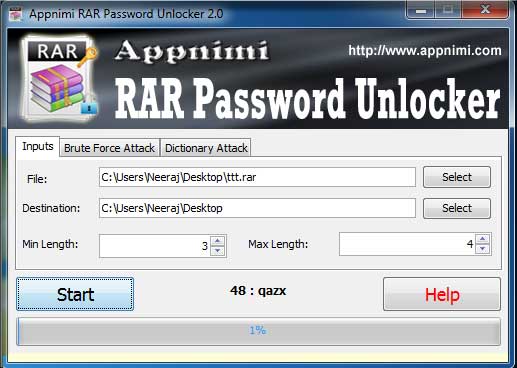 Critical functionality fix included.
Now supports brute-force method with prefix and suffix characters. Introduces dictionary based password attack.
First public release of RarPasswordUnlocker Tool
Author extends special thanks to 7zip software which is used by Rar Password Unlocker.
Appnimi RAR Password Unlocker is designed with a good purpose to help users to recover the password of their protected RAR file which they have valid access to.
Like any tool its use either good or bad, depends upon the user who uses it. However author or Appnimi is not responsible for any damage caused due to misuse of this tool.
Read our complete License & Disclaimer Policy.